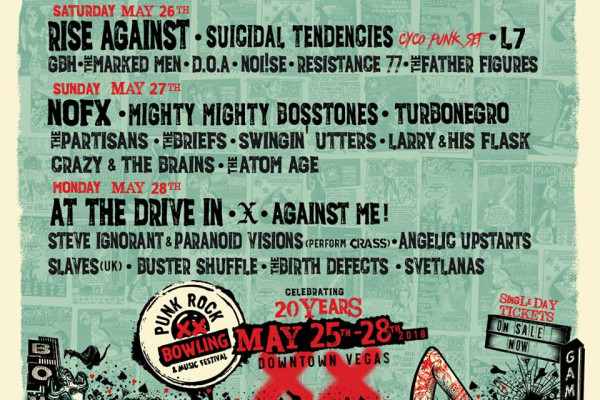 We're only a couple months out from Punk Rock Bowling 2018! For its 20th anniversary, the festival has announced an amazing line up as well as a ton of awesome club shows. Obviously, we know performances by punk rock heroes like Rise Against, NOFX, At The Drive-In, Against Me!, X, Suicidal Tendencies and The Mighty Mighty Bosstones are going to rule, but what about the new and up-and-coming bands that are playing the event, too? Well we got you covered. Check out the list of the staff's picks below and feel free to add your own picks in the comment section, too!
Punknews is a sponsor of PRB 2018
The Atom Age
The Atom Age plays first Sunday on the big stage at Punk Rock Bowling. What a way to start the day! If any band can get the hungover masses dancing, it's The Atom Age. Their dual guitars, saxophone and organ are the perfect recipe for a punk rock party. The Oakland sextet's revved up take on early rock and roll is as catchy as it is movement inducing. The Asian Man band would make the perfect background music for treating your headache with a little hair of the dog. Be sure to drag yourself out of bed in time to see The Atom Age. You won't regret it. -Tom Trauma
Crazy And The Brains
Crazy And The Brains are a force to be reckoned with! Wild and crazy and unique, this band is sure to rock the Las Vegas stage even harder than their 2017 Asbury set. This is a main stage slot you won't want to miss. They bring a new flair to punk that dusts off the old cliques and brings a whole new scope. Marimba sticks will fly and beautiful women are sure to dance along! -Okra Windfree
Days N Daze
One of the bands I really hope I get a chance to see Punk Rock Bowling is Days N Daze. I have not had the pleasure in seeing them live yet. Their approach to mixing folk punk and crust punk together was exemplified quite well in their 2017 album Crustfall. The band's unorthodox music will make them one of the more unique groups to catch at Punk Rock Bowling this year. -Ricky Frankel
The Last Gang
Originally formed in 2007 by guitarist-vocalist Brenna Red, Orange County natives The Last Gang played their own brand of 70s-style punk rock. Hanging up their punk rock guns in 2012, they were reformed a few years later and contributing to the Rancid tribute album Hooligans United. Quickly after signing to Fat Wreck Chords in October 2017, they released a 7-inch for the song "Sing for Your Supper," following it up with their Fat debut LP, Keep Them Counting, on March 2, 2018. Their mix of classic punk and melodic pop-punk is sure to make The Last Gang a PBR favorite. -Steve Long
Noi!se
Punk Rock Bowling is one of the few American music festivals that caters to fans of classic punk. Noi!se might not have a 35 year history like some of the bands playing, but they will definitely appeal to that audience. Their sound is firmly rooted in street punk and Oi! trailblazers like Cock Sparrer, The Business and Angelic Upstarts. Noi!se adds enough hardcore aggression to impress the younger crowd too. They released their sophomore album, The Real Enemy, last year. That record turned a lot of heads and their live show is sure to do the same. Don't miss Noi!se Saturday on the big stage. - Tom Trauma
Old Firm Casuals
OFC's have been slugging it out for almost a decade now, quietly releasing limited 7-inches every sixth months or so. To a degree, it seems that this secretive approach is as much their band's art as the music itself. Fronted by Rancid's Lars Frederisken, the band distills Lars' contribution to that group down to its purest essence- that is to say, OFC songs are short, sharp, brusque tales about fightin' as see through the Oi!/77 punk mindset. This band likes to keep it on the down low, so even simply by seeing them, it makes you feel like you're a part of a secret club. - John Gentile
Rats In The Wall
If you haven't listened to Rats In The Wall, where have you been?! The band features Brad Logan and Donny Morris of Leftover Crack with Eva Hall on lead vocals. I've managed to catch them live a few times and they put on an incredibly powerful show. The band released a fantastic six-track EP called Warbound in January and it is truly some of their best work to date. Hopefully we'll get to hear some songs from it in May. Seeing Rats In The Wall at Punk Rock Bowling this year is an absolute "must" for hardcore punk fans. -Ricky Frankel
Sciatic Nerve
For me, Sciatic Nerve was the surprise of 2017. Their self-titled album came out of nowhere for punk fans and it did not disappoint to say the least. Though how could a record by a band made up of members of Swingin' Utters, Nothington, Western Addiction and Cobra Skulls not be good? The band has only played a handful of shows and other festivals, so if your going to Punk Rock Bowling this year make it your mission to see Sciatic Nerve!
Side Note: I'm also extremely stoked to hopefully see Western Addiction live again and to hopefully see my first Cobra Skulls performance as well. -Ricky Frankel
The Shrine
Mid 70's hard rock meets early West Coast hardcore, baby! If there was a better formula for a scuzzy slam party, I haven't seen it. Having previously teamed up with both Chuck Dukowski and Keith Morris, this retains the raw, early energy of the earliest hardcore 45's while coming from a decidedly 2018 viewpoint. Listen, if it's cool enough for Keith and the Duke, it's damn well cool enough for you. - John Gentile
Svetlanas
If you're exhausted by Monday, get ready to be totally woken up when you see the Svetlanas help start off the third day of Punk Rock Bowling. Olga's biting vocals along with the thrash sensibilities from the rest of the band will get your adrenaline pumping immediately. Their album This Moscow Not LA is incredibly fun and filled to the brim with pure aggression. Not to mention, they even threw in a Motorhead cover in there, too. Seeing the Svetlanas at Punk Rock Bowling this year will be quite a treat. -Ricky Frankel