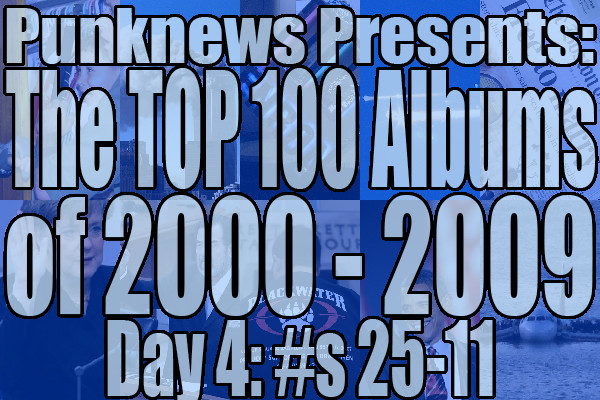 Punknews continues our Top 100 albums of 2000-2009 poll, as chosen by PN's staff, writers, and editors. Today we're closing in on the biggest albums of the decade, revealing the ones that just missed the Top 10:
There's something about a final album that can evoke greater sentiment and depending on the circumstances (say, a beloved artist's death, for instance) add a tragic layer of appreciation to its existence. Streetcore is both a final album and a posthumous album, pieced together by Mescaleros Scott Shields and Martin Slattery. Necessarily raw, many of the vocal tracks on Streetcore were first takes, never to be returned to following Strummer's death. Blues meets reggae rock on the groovy "Get Down Moses" while Strummer faithfully covers Marley's acoustic rendition of "Redemption Song," accompanied by its tearjerker of a video complete with non-weird cameos by Matt Dillon and Steve Buscemi. The interpolated "Silver and Gold" from Bobby Charles' "Before I Grow Too Old" is an all-too ironic capstone to an album (and life) that was over too soon. -Tyler Barrett
25 (tie). Modest Mouse – The Moon and Antarctica (2000)
It's hard to pick between The Moon and Antarctica and Good News… for Modest Mouse's best album, but if your favorite thing about Modest Mouse is their beautiful, haunting melodies, The Moon and Antarctica is the album for you. From the romantic sex ballad, "3rd Planet," to the funk infused "Tiny Cities Made of Ashes," to the folk pop of "Paper Thin Walls," this album delivers those stunning melodies at every possible opportunity. It's a diverse album that moves fluidly through different styles while Isaac Brock croons his bizarre poetry. It's an album with a lot of darkness and light, a lot of twists and turns, and it's dense enough to give you a new surprise every time you listen to it. Truly it's Modest Mouse's prettiest album, and definitely one of their finest. -Julie River / truthbealiar
24. Modest Mouse - Good News for People Who Love Bad News (2004)
This was my #1 record of my first year-end list for Punknews, so it holds a special place for me there and I still stand by it as the best record of 2004. I got into MM thanks to a college friend in the year 2001 or so, hearing Moon and Antarctica and The Lonesome Crowded West first. I think many old fans thought Good News was "too poppy," but anyone paying attention, singer and primary songwriter Isaac Brock has always brought the pop hooks. People of this archaic "sell-out" thinking tend to forget that Moon was a major label album too, it just happened to be a more atmospheric and sprawling record. Good News is the only time Brock has made what I'd call a succinct statement in an LP, as it's their only album to clock in at a "normal album length" of 48 minutes. The album may have had their two biggest radio hits but while the production was slick, the songwriting never compromised the MM sound. On "Float On" Brock still yelps weird lyrics over a dance beat, a move always in their repertoire, the production just sounded more smooth. "Ocean Breathes Salty" is a fucking jam, with a groove I've lifted for songs of my own, and lyrics that are downright mean for a radio single. The band still stretched to new places, with some Tom Waits love in songs like "Satin in a Coffin," four-on-the-flour smashers like "Bury Me With It," vocal and synth earworms in "The View," and great guest appearances by The Dirty Dozen Brass Band and The Flaming Lips." It's my favorite MM album after Lonesome, and still the album I recommend to Modest Mouse newbies, because you get everything they do best in a tight, well-produced package. -Greg Simpson
23. Descendents - Cool To Be You (2004)
Cool To Be You is the sixth studio album overall by the legendary Descendents and their first since the 1996 album Everything Sucks. It was released in March of 2004 by Fat Wreck Records. In addition to their typical themes of flatulence and overall nerdiness, the band incorporated more socio-political and personal themes into this album. They celebrate (and condemn) American history with typical punk rock flare on the song "Merican" and lament the loss of a father in "One More Day." The mix of topics along with the standard melodic sensibilities that made this band great are what make this album special. -Steve Long
Favorite song: "Merican"
22. Bouncing Souls – The Gold Record (2006)
Over fifteen years into the band's history, the Bouncing Souls added another classic to their discography. The twelve-song collection most notably included two excellent covers—Avoid One Thing's "Lean on Sheena" and The Kinks' "Better Things"—and a song written by a soldier serving in Iraq. The music saw the band leaning harder on their poppier side, a natural progression from Anchor's Away. As they got older, Greg Attonito's voice grew fuller and clearer, while Pete Steinkopf and Bryan Kienlen continued to give the music the same muscular push. This was the album where the Bouncing Souls went full on slick production, something producer Ted Hutt was a master of. Sonically, the edges had been smoothed out especially on a track like "The Pizza Song," but the heart and Jersey pride remained. This transition allowed the Souls to age gracefully, setting the template for future releases. The Gold Record was plenty energetic but traded the rawness for craftmanship. -Nick Poyner
21. NOFX – War On Errorism (2003)
Having come out of the mid and late 1990s punk revival relatively unscathed, NOFX were slowly entering their third decade and 'old band' territory. When I first bought this record, I wasn't too optimistic – how do you top something like "The Decline"? The Bush-inspired cover and Rock Against Bush activism seemed like something that would get dated really fast, but as soon as I hit play, I was quickly convinced that was another classic.
Mixing up the varied soundscape of Punk In Drublic with the proficiency of So Long And Thanks For All The Shoes, on War On Errorism NOFX complimented their fast skate punk rock that will encourage you to break your bones on a skateboard, with the more somber and thought-provoking moments of band that is content with its success. They even managed to squeeze in a couple ska and rockier songs to show off just how versatile musicians they actually are.
NOFX's sound on this album is as solid as ever, but where this album distinguishes itself is in the lyrical department. As a writer Fat Mike has always had an observational quality similar to Kevin Smith, in that he is comfortable turning the focus on himself and his peers. While he has primarily been humorous and self-deprecating in his approach, by this point he began to address darker and more personal issues with a refreshing honesty. The overall feel of this album is that old punk bands can learn new tricks and still be lots of fun. -Ioannis Pelegrinis / Fox82
20. Green Day – American Idiot (2004)
Stinging from the commercial failure (but critical success) of Warning, Green Day retreated back to their signature sound for American Idiot. But while American Idiot didn't experiment with musical styles in the way Warning did, Green Day found other ways to branch out and explore new territory, most notably in pulling from their idols, The Who, and recording a full on rock opera. In addition to being the band's first album to tell a whole story, with the Bush presidency and the Iraq War in full swing, American Idiot marked Green Day's first foray into political music. While not a lot of music critical of the war made its way into the mainstream, Green Day's established reputation from over a decade as an apolitical band meant that their anti-Bush and anti-war anthems got massive airplay, making Green Day the most prominent dissenting musical artists of the Iraq War era. With two epic songs exceeding nine minutes in length, American Idiot shattered punk conventions while still keeping itself firmly grounded in punk, and it skyrocketed Green Day back into the prominence they hadn't seen since Dookie a decade earlier, creating a whole second generation of Green Day fans singing songs of peace and resistance. -Julie River / truthbealiar
19. Alkaline Trio - Maybe I'll Catch Fire (2000)
After roaring out of the gate with the scrappy Goddamnit, Chicago's Alkaline Trio now had to follow it up. The album shores up production just a little bit, still keeping that raw edge from the debut, and Matt Skiba and Dan Andriano are both firing on all cylinders with their songwriting contributions. Andriano gives us one of his best with "You've Got So Far to Go" and Skiba's "Fuck You Aurora" became an instant car-ride shoutalong for me and my friends. Live staple "Radio" rounds out the album with classic Skiba lines: "Shakin' like a dog shitting razorblades / Waking up next to nothing". The Trio didn't quite top Goddamnit here but they came awful close. -Greg Simpson
18. Against Me! - is Reinventing Axl Rose (2002)
Against Me! is Reinventing Axl Rose completely reinvented folk punk. In a decade where the genre reached its peak relevance and saturation, Against Me! lead the charge, laying down the groundwork for a sound that would come to define the Plan-It-X records and the surrounding scene. At this point, Against Me! had already moved on from Plan-It-X, releasing this debut full length through No Idea, but the material released on the Crime EP (some of which was re-recorded for Reinventing Axl Rose) had already made waves in the underground for its use of raw, minimalist production in tandem with erratic song structures and fiery lyrics. The band's self-titled acoustic EP further developed their stripped-down singalong style and introduced four more tracks to be re-imagined on their first LP, including its opener, "Pints of Guinness Make You Strong," which remains one of Against Me!'s most iconic songs to this day. Against Me! is Reinventing Axl Rose contained six unreleased singles, but also breathed new life into existing material. Its mix was chock-full of contrasting elements which played off off each other to forge an overarching sense of composed aggression. Laura Jane Grace's forceful vocal presence is matched with omnipresent group harmonies. The sterility of the record's acoustic and distortionless guitars is challenged with James Bowman's vigorous playing style and Warren Oakes' cranked snare tone. It's a sound that derives its potency through the balance of the conflicting aesthetics the band was trying to evoke. –Sean Crawford
The second of Hot Water Music's three Epitaph records contains some of the band's most enduring and beloved songs. "Remedy", "Trusty Chords" and "Wayfarer" remain fan favorites. If a friend were to ask you which Hot Water Music record they should check out, this would be a good place to start. Caution captures an iconic band at the peak of their powers. -Tom Crandle
I remember jetting off to Riot Fest in 2016 to see them and Brand New and sadly, fucking made it late to their sets. I didn't get close enough to JEW's stage but whatever, they sounded so fucking tight. Bleed American was the order of the day and it took me back to 2002 when I passed all my exams with all A+'s and in my cassette player was this album. I was walking up to school, poor and tired, with tracks recorded off the fucking radio, and angry despite success. But when I heard songs like "Sweetness", the title track and honestly, every other song here, it's like I lost all the rage. Sure, "The Middle" got mainstream pop but every jam on this album's worth a single and a music video. It's hard to find a JEW record I don't adore but this album is one of the most untouchable and classical albums of my entire life. Jim Adkins and co. have so much sentiment packed in, whether it's a poppy ballad or a hard-edged speedy shot of punk. The replay value on this is so high, to this day I just leave it on for weeks in my car or at home doing work, wrapped in a blanket of comfort. It's a record about pure love and warmth and it's made my life all the better for it. -Renaldo Matadeen
15. Bad Religion - The Process of Belief (2002)
The band may or may not acknowledge it, but The Process of Belief was definitely a comeback album. After four increasingly mediocre albums for a major label, Bad Religion's return to Epitaph really seemed to energize them. (Brett Gurewitz's return to the fold obviously also helped.) The Process of Belief spawned a couple of the band's most popular songs like "Supersonic" and "Sorrow". Most importantly, it started Bad Religion on an amazing roll that has now lasted for almost 20 years. -Tom Crandle
14. Cursive – The Ugly Organ (2003)
In the world of emo (let's skip the arguments over whether or not Cursive qualifies as emo, shall we?), I can't think of an album aside from The Ugly Organ that actually gets self reflexive and explores the effect that emo songs have on the people they're written about, let alone their effect on the person writing them. It's that self-reflection, which runs through the entire album, that makes The Ugly Organ a standout in Cursive's already strong catalogue. Frontman Tim Kasher sings these lyrics on the verge of both screaming and crying for most of the album, adding a certain immediacy to the album's emotional content. Cellist Gretta Cohn, who would only appear on this album before departing the band shortly afterwards, adds a truly haunting quality to Kasher's haunted lyrics. It's an album about guilt and pain, but at the end the album pulls you through the darkness to get to a place of peace and acceptance that creates a strong and beautiful catharsis. Unique in Cursive's discography (I personally think the follow up, Happy Hollow, was equally good, but very different) The Ugly Organ is the band's most beloved and fondly remembered album to this day. -Julie River / truthbealiar
13. Green Day - Warning (2000)
Green Day's sixth studio album, Warning, was released in October 2000 by Reprise Records. It continued their experimentation into abandoning their traditional pop-punk roots and diving into a more acoustic and folk style. The album itself did very well, critically and commercially. It peaked at #4 on the US Billboard chart and was certified gold in the United States and platinum in Canada and Australia. The tracks on this album showcased the evolution of Billie Joe Armstrong's songwriting talents. If you were looking for another Dookie, this album probably disappointed you. But the songs are catchy, and the lyrics are less infantile as previous works, working more positive and uplifting themes into the mix while still holding on to a little bit of the sarcasm they were known for. -Steve Long
Against Me! pulled off one of the most punk rock moves in music history. After years in the underground jumping from indie label to slightly bigger indie label, the band signed to major label Sire Records, and made an album, with a few notable exceptions, almost exclusively dedicated to shitting on the major label system. Beyond that though, we got a more personal record than we had heard from the band yet. It's shocking how blatantly open and honest Laura Jane Grace was about her gender identity in the epic closing salvo "The Ocean", and it's almost comical how those blunt lyrics never elicited more than a shrug from most listeners until years later. Punk purists liked to whine about Butch Vig's production, but this is the closest an album has ever gotten to the way Against Me! sounds live. If you bought the standard version, you really only got about ⅔ of the record. The five bonus tracks on the French release are all just as captivating as the ones that made the main album. New Wave is some of the band's finest work. -Tori Pederson
Joe Stummer was a legend in his own time, for a few years The Clash were called "the only band that mattered". After their breakup, Mick Jones found his voice with Big Audio Dynamite. Joe Strummer had a harder time; it wasn't that anything he did was particularly bad. It was more that he struggled to find his voice. When The Mescaleros got together, that changed. Their debut, Rock Art and the X-Ray Style, confirmed he'd found a group of musicians he felt at home with again. It wasn't until Global a Go-Go that the band achieved a sound that was unmistakably theirs. The way they blended rock, reggae, elements of hip-hop, and genres from around the world were seamless. The lyrics were there, Joe Strummer's voice kept the same power but had a few decades of wisdom behind it, and the songs were played by a band clearly comfortable with one another. Strummer would pass away while this album's follow up, Streetcore, was still in production. While hardly a swan song, this was the final piece of music Strummer would get to leave his fingerprints on every element of, and the power it holds will not soon be forgotten. -Johnathon Gallienne / Johnathon1069

Top 100 of 2000-2009: #25-11 Mixtape
Each day this week we'll include a nifty little Spotify playlist for you to check out a track from each entry.
Trivia Nuggets
- at 5, The Methadones had the most albums to receive votes and still not have any of those albums crack the Top 100.
- 11 albums each received a total score of 1, meaning that they were A) #100 on the participant's Top 100 picks, and B) did not appear on anyone else's picks.
- As expected in this type of scoring system, the chances of a tie decrease the closer we get to the top. Today's two albums tied for #25 are the last ties in the Top 100.

Methodology
17 Punknews reviewers, writers, and editors participated in this poll. Each chose their Top 100 albums of 2000-2009, assigning each album a point value with 100 being the highest, and 1 being the lowest. The point values for each album were then tallied and then they were sorted from highest tallied score to lowest. The top 100 albums were chosen to fill out the list.