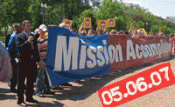 It's Sunday May 6th, 2007. So Chris Hannah wants to be named the Worst Canadian, and you may think he doesn't have what it takes -- but I do. Chris Hannah derailed the Meech Lake Accord. Chris Hannah cancelled the Avro Arrow program. Chris Hannah sold Labatt's to the Belgians and Sleeman to the Japanese. Who caused the collapse of the Atlantic cod fishery? that's right folks: Chris Hannah.
The people must have something good to read on a Sunday
Well Rage Against The Machine's been back for a few weeks now and they've already managed to stir up some trouble. The band reunited for Coachella, playing some of their classics to an enthusiastic crowd, while delivering that radical political message we all know and love. Well that message managed to rile up pundit blowhards Sean Hannity and Ann Coulter, which come to think of it isn't that hard. This wasn't the only Fox News venture into music this week, as the network went "undercover" in the emo scene. We had some news about Michael Muhammad Knight's novel The Taqwacores, depicting a fictitious Muslim punk scene in the US that has since spawned the real thing. Pop stars Fall Out Boy are headed to Uganda in support of the "Invisible Children" charity. This week saw news of Courtney Love planning to auction off Kurt Cobain's belongings, My Chemical Romance and Muse cancelling a tour due to food poisoning, and the break up of troubled punk act The Explosion.
Let's talk new records. The build up to Against Me!'s New Wave continues as the band keeps revealing details. We saw info on Strung Out's Blackhawks, the Beastie Boys' instrumental record, the next Warped Tour compilation, and the reissue of the Foo Fighters' Colour and the Shape. Goldfinger posted a new song for animal activist Kevin Kjonaas. That long awaited Operation Ivy reissue has been delayed to July, and former member Tim Armstrong posted more music from his solo album.
Our Video of the Week featured New Jersey's Gaslight Anthem while our Editors Picks for the week included a mash-up of unknown British bands the Beatles and the Clash. We brought you streaming music every day, featuring J Church's new record The Horror Of Life, the Ergs' Upstairs/Downstairs, some critically acclaimed catalogue material from Autonym, the Mad Caddies latest Keep It Going, ex-Ducky Boy Mark Lind's Compulsive Fuck Up, and Fake Problems new LP How Far Our Bodies Go. On the interview front we spoke with the Mad Caddies (interview), the Paper Chase (interview), and Keeley Davis of Glos, Engine Down, Sparta and Denali (interview).
Click Read More to see this week's streaming music, contests, comic and more.
Radio Free Punknews
Check the Punknews Music page to stream all sorts of anticipated new music including a new track from Brooklyn's Nakatomi Plaza, Matt Pryor's new act the Terrible Twos, ex-I Hate Myself Gainesville act Die Hoffnung, a pair of songs from Millencolin frontman Nikola Sarcevic, Red Scare upstarts The Copyrights, Limbeck, Cardiff UK's The Automatic Automatic, Test Your Reflex, Deathkiller, and longstanding ska act the Toasters.
Suntans are for Winners William Tell
William Tell, former guitarist from Something Corporate, recently released his first solo record, You Can Hold Me Down and so we're giving away five signed CDs and posters. You can also check out his new video: "Fairfax (You're Still the Same)"
Staff Blogs
When not writing about music on the internet, many members of the Punknews staff find time to write about music on the internet. You can check out the depraved musings of Adam White at 2:59, while Chris Moran's all over the place with content rocking both MySpace and Flickr. Reviewer Jesse Raub posts short fiction and web comics to Things That Go Bump In My Head.
Life at Disconnect
We've theorized that you visit other websites out there, and we know it can be tough to leave the calming blue glow of the `Org, so we'll help by infecting the rest of the web with Punknews content. Waste some time on the Punknews.org and Punknews Records MySpace pages or contribute your listening habits to the weekly charts Last.fm group.
Come Join Us
Why register on Punknews.org? Registered users can rate bands and reviews, building recommendations and links between artists for the whole community to share and discover. Users get their own profile page showing recent comments, top rated bands and favourite records and more. So go ahead, cast off the cloak of anonymity and create your account today - it's free, easy and private.
Jesse Raub: Agent of S.H.I.E.L.D.