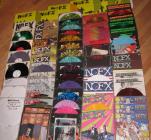 You're the lucky reader of the 17th edition of the Punknews.org Vinyl File. This column aims to keep you informed with upcoming releases as well as spotlighting interesting releases, your favorite band's own collections and labels with an history of vinyl releases worth talking about. As always, Vinyl File is brought to you by Ben Conoley.
This week we are pleased to offer an interview with our new friend Dave, who has what must be one of the largest NOFX collections we've ever heard of. We also have new release info on a whole slew of bands including Isis, mewithoutYou and Paint it Black. If you have any suggestions on what you would like to see featured, don't hesitate to give us a shout.
Click Read More for the full article.
VINYL FILE SPOTLIGHT
If you think it's difficult to collect every pressing and variation from your favorite band, be thankful that your favorite band isn't NOFX. Read on to find out the lengths one dedicated collector has gone to as well as the amount of storage space his collection must take up in his home.
What's your name and where do you live?
Dave, and I reside in Hollywood, California
When did you first get into record collecting?
I started seriously collecting records in 1994.
While we're here to talk about NOFX, and we'll get to that, what was it that inspired you to start buying vinyl?
I grew up on the east coast. My friends older brother was a drummer for a well known Philadelphia hardcore band. He had hundreds of great punk records, and was a seemingly cool dude. So when I would go to my buddy's house we'd sit and listen to records with his brother. It was like "punk rock 101". It was my introduction to record collecting, and i was introduced to lots of the punk rock "staples".
Do you collect any other bands besides NOFX?
Oh god yeah. I collect pretty much every genre of music and every era (minus big band and anything pre-1950). Punk rock is just my first love. As far as punk bands go, I collect the usuals: The Misfits, Dead Kennedys, Descendents, Adolescents, The Dickies,The ex, Wire etc … and I also collect by labels. When i was younger I focused lots on Dangerhouse, Mystic, Alternative Tentacles … Creep Records was a huge one for me. They were (dare i say) the only PA labels putting out amazing music when I still lived on the East Coast.
What was the first NOFX album you picked up, and what made you do it?
First record I bought from fat mail-order was Don't Call Me White 7" along with Liza & The PMRC repress. First Nofx album I actually went to the store to buy was Punk In Drublic. My friends brother (mentioned earlier) had played it for me. I think around when the track "the brews" came on, I was like… "this band is the greatest".
At what point did you decide that you weren't satisfied in having just one of each album, or the ones that are easy to find and start hunting down rare pressings and releases?
I always had that feeling. I am just a collector by nature. But it wasn't until I really started making money at a job, that I could really enjoy collecting the way I wanted to. I'd say around the beginning of college that I started going deep down the rabbit hole.
Can you list what your NOFX collection consists of today?
Okay, you asked for it… EPs: S/T (2 with lyric sheet) 1 without. 2 copies of it's subsequent repressing. 1 copy of the repress on light Blue vinyl. 1 copy of the repress with the advert for Maximum RnR…
So What if We're on Mystic. Black (3) Yellow (2) Blue (1) Dutch East (2)
PMRC (wassail) I have a weird unnumbered but addressed stamped promo copy with a different cover and a lyric sheet. #7, #62 & #369. Then I have 5 different pressings of the FAT version.
Drowning Roses split; 2 on red 2 on black (one of each the cardboard stock and one paper)
Ox 7". 1 with the intact zine 1 drama tour cover (#27/50)
Longest Line: Test Press, Black and Purplish-Grey
Liza: Test pressing, & I have about 3 variations of pink ranging from light to dark and the still available Black.
DCMW: 2 copies on white
LIA: 10" black vinyl with cover, 10" Pic Disc with Black edges & one with Clear edges
HOFX: I have about 17 different versions. 1 pic disc and 16 colors. 2 Blue (baby & dark), 2 purple (Clear & opaque), 2 pink (bubble gum & dark), 2 yellow (light & dark), 2 green (dark & lime), orange, red, turquoise, black Fuck the Kids: Test Pressing, Green (2) & translucent Black w/ color splatter
All Of Me: (2) Dark green & Aqua
Timmy the Turtle: (2) Dark and Light
Louise & Liza: I have about 4 shades of purple and 1 copy with the lyrics on the back sleeve.
The Decline: Clear & Black
Pods and Gods: (3) on orange Surfer: Blue and Black
Fat Club: Two copies… one with FATCLUB note
Regaining Unconsciousness: (5) on grey
13 stitches: 2 marbled, 2 flat
7" of the month club: I have 5 sets of each on colored (1 set is still in the original UNOPENED mailers. Each record has 4 label variations, I have collected all four variations for 9/11 versions (12th was pic disc, repress with only 1 label variation) Then I have most of the 4 label variations of the black vinyl repressing of each one. So thats 8 variations of the 10 that have both. Sept. was pressed on Black vinyl to begin with so it wasn't repressed… as far as i know.
LPS:
S/T: 5 total: Black vinyl 88 pressing Red label & White label, Purple vinyl & Green vinyl; Then the 96 repress on black
Liberal Animation (wassail) 2 copies with inserts and poster. Epitaph pressing; Burgundy colored, Black original and black repress.
S&M Airlines: (3) Black vinyl, original and repress
Ribbed: Test Pressing, Yellow vinyl (with promo poster), Black vinyl & repress on black
Maximum RnR: Test Pressing, Black vinyl and the new Grey Marbled vinyl.
White Trash, Two Heebs and a Bean: Black vinyl
Punk in Drublic: (2) Black vinyl
I Heard They Suck Live: Black vinyl
Heavy Petting Zoo: "Eating Lamb" Test Pressing, (3) Black Vinyl
So Long and Thanks for All the Shoes: (2) Black Vinyl Pump Up the Valuum: 4 copies. (2) US Baby Blue and (2) Euro-taph darker baby blue
Rancid Split; Test Pressing. Orange vinyl, Green vinyl, and Black vinyl with both cover options
22 songs…: Orange and Black vinyl
War on Errorism: White vinyl, Black vinyl
Wolves in Wolves' Clothing: Black, Greenish yellow, Orange, Yellowish yellow
What record in particular did you have the hardest time tracking down?
The toughest to get was an Ox-fanzine split-7" with the complete intact fanzine. I spent years searching for one, dealing with crazy germans online… then one day I ended up desperately emailing Joachim from Ox (this was around 2003) and I asked if he had any extra laying around in the "ox garage". After a few weeks he emailed me and told me he had found one, and being such a cool and awesome guy, he sold it to me for $20. It was surreal… it was a true vinyl-junkie fix. I asked him again a few months later for a buddy of mine… but I guess I had got the only one he found.
Did you come across any of your records in "unconventional" or interesting ways?
Yeah, well the OX 7" was weird… for a few years I spent every sunday morning going to swap meets here in LA. I would occasionally find goodies… a couple great Misfits finds, some Suicidal tendencies and Bad Religion rarities. I bought my Yellow "Ribbed" at a swap meet for $6. I guess this is kinda unconventional; When Arons records was closing I asked to see the back-room, and as a result spent way too much time in the upstairs, before it closed in 2006 … just going through their stacks and stacks in the "rare room". It took me months to get through it all… but boy was it worth it.
What is the most you've dished out for a record?
I paid $700 for an Original "Cough/Cool" on my 23rd birthday.
What white whales are still out there?
There are so many Misfits records I'd kill for… it's really impossible to make that a reality… there are just so many variations, and they are so costly. I'd like to one day finish my dangerhouse collection… but the biggest for me is probably Social Distortion 1945 ep 1st pressing with photocopy sleeve. I'd sell a kidney for one of those.
What's your favorite record from your collection?
I am consistently blown away by the Urinals s/t ep.
What NOFX album would you say is the band's best?
I personally think So Long and Thanks For all the Shoes is their best.
Does your collection branch out into side projects such as Me First and the Gimme Gimmes or other albums in the Fat catalog?
Of course. I am an uber-nerd… I have the entire Fat catalog (at least all the ones they pressed on vinyl). I have every Me First record (eps and lps), many of their test pressings, the bowling bag… shit, I even bought the coke mirror, Hawaiian shirt and the zippo lighter. Yeah, it's like that.
NOFX has been around for quite some time, what do you contribute their continued relevancy to?
They just make great music and make me laugh.
THE PUNKNEWS.ORG VINYL FILE
I'm going to go ahead and get a little self-promotion out of the way here. Vinyl File is appearing in print in the now glossy and full color pages of AMP Magazine. Look for the latest issue, on stores now, to get your fill. Vinyl File is officially excited to be a part of such an excellent publication.
Against Me! still has some copies of their White People for Peace 12" available on tour. The single is limited to 1,000, so you might want to grab one if you're heading to one of their upcoming shows.
It's Alive Records has posted a couple new releases The first is Chinese Telephones' debut release. The first 200 are going to be on clear vinyl while all remaining copies will be pressed on black. It's available for pre-order at the labels website along with a a 7" from The Mugwumps' Do Time 7" which will be pressed on both blue and black vinyl.
Gearhead Records is repressing The Hives' breakthrough album Veni Vidi Vicious. The new press features 250 clear dark green copies of the album.
While we are still awaiting news on that IsisIsis boxset that has collectors walking around with boners, Robotic Empire>/a> will be repressing the band's latest studio album In the Absence of Truth as well as the fourth installment of the band's live series.
No Idea Records has a whole bunch of news. The most exciting, perhaps, is that they are repressing the latest Self-Titled release from Lifetime/ The album was originally released this past summer through Fueled by Ramen imprint Decaydance.
Fans of Queens of the Stone Age can pre-order their latest album, Era Vulgaris. The limited 3x10" can be pre-ordered here.
Paint it Black are set to release New Lexicon in February. While Jade Tree will be taking care of the CDs, records will be released care of Rivalry Records. Expect information on color and limits later on. Pre-orders should be launched within the next month or so.
Hydra Head has begun taking orders for the Legendary Demo album from Clouds/ The records are hand-numbered with silk screened covers and can be ordered here.
Southern Records are taking orders for the vinyl version of William Elliott Whitmore's Latitude Sessions. The CD was released in 2005 and quickly sold out of its initial run.
Side One Dummy have released a limited 2xLP red vinyl version of Gogol Bordello's newest album Super Taranta!. The pressing is limited to 300 copies and can be ordered here if you live in the United States and will be found in a few weeks here if you live elsewhere.
Gilead Media has formally announced information on their vinyl release for mewithoutYou's 2004 album Catch For Us the Foxes as well as their debut [A->B] Life. Each album will be available on colored vinyl limited to 500 (yellow for Catch For Us the Foxes and blue for [A->B] Life)with 1,000 on black. All those who pre-order the albums will be entered in a draw to receive a test pressing.
If you have something you would like to see included in Vinyl File, drop us an email at ben (at) punknews (dot) org.