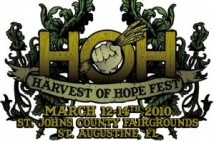 The second annual Harvest of Hope Fest has announced a second round of confirmed acts for this year's festivities. New additions include 7 Seconds, Matt Pond PA, Broadway Calls, Japanther, Smoke Or Fire, Crime In Stereo, and Yesterday's Ring.
The festival will be happening at the St. John's County Fairgrounds near St. Augustine, FL from March 12-14, and serves to raise funds and awareness for the Harvest of Hope Foundation, a charity organization that assists migrant farmworkers all over the country. Bands slated to perform include Billy Bragg, Leatherface, The Mountain Goats, Small Brown Bike, Coalesce, forgetters and a slew of others.
Ticket information is available here.