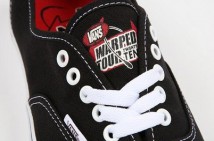 In perhaps the most obvious and surprisingly overlooked bit of marketing synergy ever, Vans has revealed that they will soon issue Vans Warped Tour-teamed Vans Sneakers. According to a report from High Snobiety, the venerable skate shoe brand will make the themed shoes available for sale on each stop of the Vans Warped Tour. They are not planning any sort of retail or online sales for the shoes, so Warped Tour 2010 will be the only source for the shoes.
The Warped Tour celebrates its 15th anniversary in 2010 and Vans has been the main sponsor for many of those years. This year's lineup includes The Adolescents, Agent Orange, Alkaline Trio, The All-American Rejects, Andrew W.K., Angry Samoans, Anti-Flag, Big D and the Kids Table, The Bouncing Souls, Cobra Skulls, Confide, The Dillinger Escape Plan, Dropkick Murphys, Emmure, Enter Shikari, Everclear, Face To Face, Fake Problems, Far From Finished, Fight Fair, Flatfoot 56, Four Year Strong, GBH, Motion City Soundtrack, Parkway Drive, Pennywise, Polar Bear Club, Reel Big Fish, Riverboat Gamblers, Set Your Goals, Sum 41, The Casualties, Dickies, The Flatliners, The Rocket Summer, The Swellers and countless others.
Check out more of the shoes here.