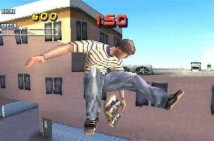 The beloved first two Tony Hawk's Pro Skater games are headed for HD reissues next year, but unfortunately will likely not include the series' iconic punk and hardcore soundtracks. As Activision community blogger Dan Amrich explains:

[The new game] is not a straight reissue; but a new game based on the levels and gameplay from both of those games. Music licensing is a one-time deal. The songs from the original games were only licensed for those specific games on those specific platforms at that specific time. Any other versions created later would need new licensing deals.
Some of the notable punk and hardcore acts on those first two games' soundtracks included: Bad Religion, Consumed, Dead Kennedys, Goldfinger, Lagwagon, Millencolin, Primus, Rage Against the Machine, Suicidal Tendencies, Swingin' Utters, The Suicide Machines, The Vandals, and Unsane.
So, any favorites from the series? The censored version of "Police Truck?" Millencolin's "No Cigar?" The Utters' Five Lessons Learned??" Just admit it, it was Goldfinger's "