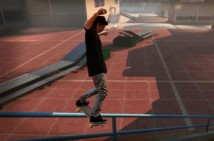 The high anticipated soundtrack to the HD reissues of the classic Tony Hawk's Pro Skater games has been revealed. As speculated, the original soundtracks will not available for the new versions of the game and so a new 16-song soundtrack was assembled. Ken Overbey, the project manager on the new games explained the challenges in a recent interview:

We definitely wanted to bring back some of the songs from the original soundtrack, but wanted new songs as well. The most difficulty we had was our budget, which was very small, and the scope and time frame; it was a lot of work to get it all lined up and get the songs in.
The end result was that a handful of the original games' most iconic songs did make it in - including Goldfinger's "Superman" - but a lot of songs were left out. The original soundtracks included: Bad Religion, Consumed, Dead Kennedys, Goldfinger, Lagwagon, Millencolin, Primus, Rage Against the Machine, Suicidal Tendencies, Swingin' Utters, The Suicide Machines, The Vandals, and Unsane.
The new ones will feature just 16 songs from Anthrax featuring Chuck D, Goldfinger, Consumed, Lagwagon, Millencolin, Bad Religion, Pegasuses-XL, and Middle Class Rut among others. A total of eight songs from the original soundtracks made the cut. The game itself is due out next month.
"Bring the Noise" Anthrax featuring Chuck D
"Superman" Goldfinger
"When Worlds Collide" Powerman 5000
"Heavy Metal Winner" Consumed
"May 16" Lagwagon
"No Cigar" Millencolin
"You" Bad Religion
"The Bomb" Pigeon John
"We the People" Lateef the Truthspeaker
"Marathon Mansion!" Pegasuses-XL
"Teenage Blood" Apex Manor
"Please Ask for Help" Telekinesis
"Flyentology (Cassettes Won't Listen Remix)" El-P featuring Trent Reznor
"USA" Middle Class Rut