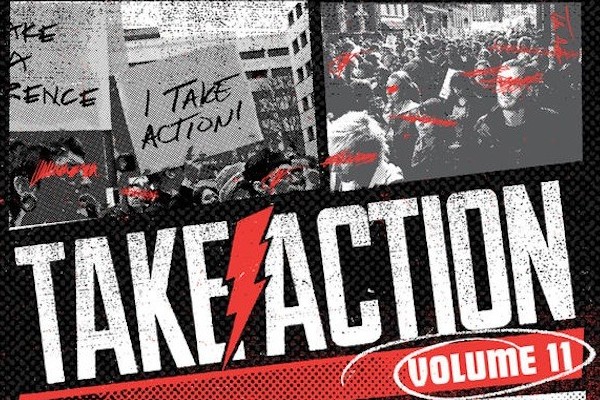 Hopeless Records/Subcity Records has announced the full schedule and lineup for the 2013 edition of the annual Take Action! Tour. First launched back in 2011 with Cave In, Hot Water Music, Zero Zero, Alkaline Trio, Selby Tigers, Thrice, Mike Park, and The Eyeliners, the tour raises funds and awareness to non-profit organizations.
The 2013 lineup will be headlined by The Used and feature We Came as Romans, Crown the Empire, and Mindflow. The charity chosen for 2013 is It Gets Better, the organization formed by outspoken columnist Dan Savage in the wake of several tragic suicides by LGBT kids.
Along with the tour itself, a accompanying compilation album is also being released and it will include rare/previously unreleased material from The Used, Bad Religion, The Wonder Years, Enter Shikari, All Time Low, SHARKS, Broadway Calls, Seahaven, Hell Or Highwater and other. It's out January 8, 2013.
| Date | City | Venue |
| --- | --- | --- |
| January 11, 2013 | Las Vegas, NV | House of Blues |
| January 12, 2013 | Salt Lake City, UT | In the Venue |
| January 14, 2013 | Denver, CO | Summit |
| January 16, 2013 | Kansas City, MO | The Beaumont |
| January 17, 2013 | Minneapolis, MN | First Avenue |
| January 19, 2013 | Milwaukee, WI | The Rave |
| January 20, 2013 | Indianapolis, IN | Egyptian Room |
| January 22, 2013 | St. Louis, MO | The Pageant |
| January 23, 2013 | Chicago, IL | House of Blues |
| January 25, 2013 | Pittsburgh, PA | Stage AE |
| January 26, 2013 | Rochester, NY | Water Street Music Hall |
| January 28, 2013 | Washington, DC | 930 Club |
| January 29, 2013 | Boston, MA | House of Blues |
| January 30, 2013 | Sayreville, NJ | Starland Ballroom |
| February 1, 2013 | Hartford, CT | Webster Theatre |
| February 2, 2013 | Atlantic City, NJ | House of Blues |
| February 4, 2013 | Atlanta, GA | Tabernacle |
| February 5, 2013 | Tampa, FL | The Ritz Ybor |
| February 7, 2013 | Asheville, NC | The Orange Peel |
| February 8, 2013 | Cincinnati, OH | Bogarts |
| February 10, 2013 | Detroit, MI | Fillmore |
| February 11, 2013 | Cleveland, OH | House of Blues |
| February 13, 2013 | Tulsa, OK | Cain's Ballroom |
| February 14, 2013 | Houston, TX | House of Blues |
| February 16, 2013 | Austin, TX | Emo's East |
| February 17, 2013 | Dallas, TX | House of Blues |
| February 19, 2013 | San Antonio, TX | Backstage Live |
| February 20, 2013 | El Paso, TX | Tricky Falls |
| February 22, 2013 | Albuquerque, NM | Sunshine Theatre |
| February 24, 2013 | Phoenix, AZ | Marquee Theatre |
| February 26, 2013 | San Francisco, CA | The Fillmore |
| February 27, 2013 | San Diego, CA | House of Blues |
| March 1, 2013 | Los Angeles, CA | Wiltern |