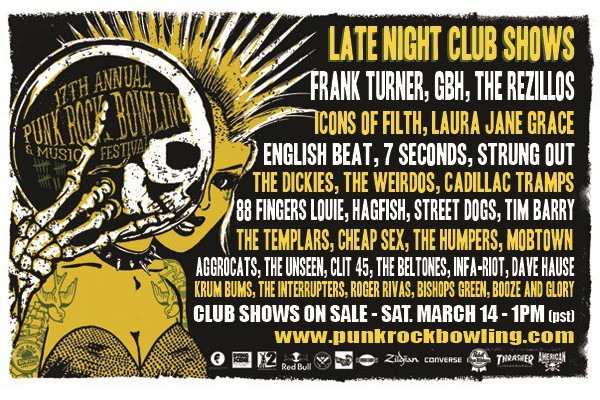 Punknews is very pleased to announce that we will be sponsoring Punk Rock Bowling this year! Look for sweet interviews and extra coverage of the Las Vegas event within the coming months! Want more information? Great, read on!
Punk Rock Bowling, the three-day music festival that will take over downtown Las Vegas May 23-25 (which we'll be sponsoring!) has announced shows in surrounding clubs throughout the event. Beginning Friday, May 22, bands such as Frank Turner (solo), GBH, The Rezillos, Laura Jane Grace, 7 Seconds, Hagfish, 88 Fingers Louie, Icons of Filth, Aggrocats (featuring members of Aggrolites and Hepcat), Street Dogs and English Beat will play in intimate venues in addition to the main stage events.
In addition to the incredible lineup of bands already announced, you can expect to see The Mighty Mighty Bosstones, Murder City Devils, Conflict, Turbonegro, Bad Manners, and Sick Of It All, Jello Biafra and the Guantanamo School of Medicine, Anti-Flag, Swingin' Utters, A Wilhelm Scream, The Business, Bombshell Rocks, The Muffs, Mahones, Sniper 66, PEARS, I.R.A., Success, Get Dead, Avenue Rockers, Eliza Battle, Sounds of Threat and Battle Born.
For more information, check the festival's website and see the club show lineup below!
Friday, May 22
Fremont Country Club
Tickets $20, doors @ 9pm
GBH
Infa-Riot
Abrasive Wheels
Schleprock
Evacuate

Country Saloon
Tickets $17, doors @ 9pm
7 Seconds
Street Dogs
The F.U.'s
The Applicators
Anti Social

Backstage Bar
Tickets $20, doors @ 9:30pm
Aggrocats
The Interrupters
The Bohunks
Gonzo
Beauty Bar
Tickets $17, doors @ 9:30pm
The Humpers
The Hangmen
Los Creepers
Revolutions Pride
Saturday, May 23
Bunkhouse
Tickets $20, doors @ 9pm
Frank Turner
Laura Jane Grace
plus more tba
Fremont Country Club
Tickets $18, doors @ 10pm
The Rezillos
The Dickies
The Weirdos
The Crowd
Danger Friends
Country Saloon
Tickets $17, doors @ 10pm
The Templars
The Beltones
Bishops GreenBooze & Glory
Straight Outta Luck
Backstage Bar
Tickets $20, doors @ 10:30pm
Cadillac Tramps
Hagfish
Johnny Madcap & The Distractions
The Drakulas
Beauty Bar
Tickets $17, doors @ 9:30pm
Mobtown
The Champions
DJ Gonzo
Sunday, May 24
Bunkhouse Tickets
$20, doors @ 10pm
SURPRISE GUEST
English Beat
The Skints
Chris Murray
Fremont Country Club
Tickets $15, doors @ 10:30pm
Cheap Sex
The Unseen
Clit 45
False Cause
Country Saloon
Tickets $17, doors @ 10:30pm
Strung Out
88 Fingers Louie
Pulley
Avenues
Backstage Bar
Tickets $18, doors @ 10:30pm
Icons of Filth
Krum Bums
No Parents
Anti-Vision
Beauty Bar
Tickets $15, doors @ 10:30pm
Tim Barry
Dave Hause
Kevin Seconds
Darius Koski
Monday, May 25
Country Saloon
Tickets $5, doors @ 10pm
Punk Rock Karaoke
Tartar Control