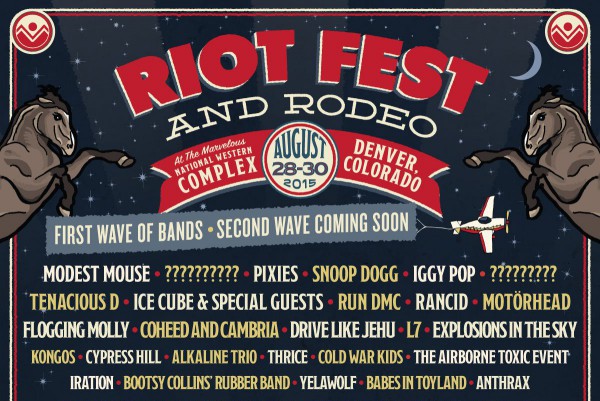 The 2015 edition of Riot Fest in Denver has announced the line up for this year's rodeo-themed festival at the National Western Complex. The line up features high profile headliners including Wu-Tang Clan, Rancid, The Pixies and Motörhead. As Riot Fest often tries to do, bands from your youth will be making an appearance too, including: Drive Like Jehu, D.O.A., OFF! and The Damned sharing the stage with popular groups including Flogging Molly, Alkaline Trio, Thrice, GWAR, The Lawrence Arms, and Andrew W.K.. Further headliners are expected to be announced in mid June, with early bird tickets for the event on sale now.
The event takes place August 28, 29, and 30, and the party can be found at the National Western Complex. You can look forward to seeing these bands, and many more to come:
Coheed and Camria, L7, Explosions in the Sky, The Mighty Mighty Bosstones. Desaparecidos, Doomtree, Dead Milkmen, the Get Up Kids, Millencolin, Joyce Manor, Benjamin Booker, 7 Seconds, Teenage Bottlerocket, Direct Hit, Elway, The Hotelier, Broadway Calls, and so many more. See the full first round of the line up and purchase tickets here.