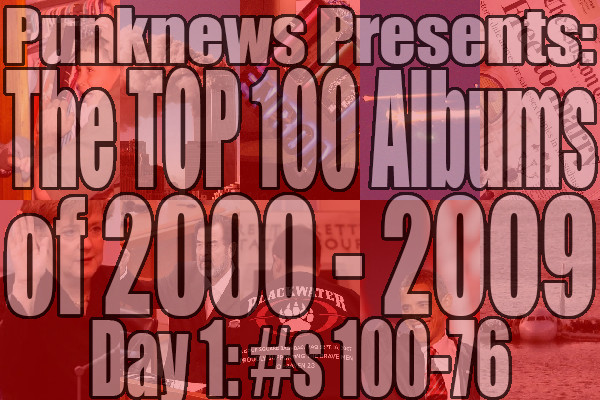 Introduction
Almost ten years in the making, this has been a, say… long-gestating project. Soon after Father Time closed the door on 2009, several members of the PN team proposed doing a "Best of the Decade" poll. The idea was entertained, but only made progress in extremely sporadic stops and starts. In early 2018 PN staffer Greg Simpson took the reins and revived this poll of our favorite albums of the decade. Over a year later Punknews is now ready to present to you the two-week extravaganza that is the Punknews Top 100 Albums of 2000-2009!
Each day this week we will post a section of the results, working our way down to the #1 album of oughts/aughts/'00s… whatever you want to call them! Each entry will have a short blurb written by a PN staffer about the album. Accompanied at the end on each day will be an embedded Spotify playlist featuring a track from each of that day's entries, as well as trivia nuggets about data in the poll itself.
Next week will include interviews with a majority of the poll's participants wherein I talk to them about their individual #1 picks for the decade. I think you'll find them as enjoyable to read as it was for me to do.
Methodology
Before we start, allow me a minute to explain how we came about this list: 17 Punknews reviewers, writers, and editors participated in this poll. Each chose their Top 100 albums of 2000-2009, assigning each album a point value with 100 being the highest, and 1 being the lowest. The point values for each album were tallied and then they were sorted from highest to lowest based on that tallied score. The final results are the 100 highest scoring albums. And so, without any further ado…

Top 100 of 2000-2009: 100-76
99 (tie). The Mars Volta - De-Loused in the Comatorium (2003)
Imagine the audacity to think your debut LP could be a concept album of unified speculative fiction based on the drug-induced chaos of a suicidal poet. And that it would find any kind of success among the mainstream masses. Well, perhaps the soothsaying savvy of The Mars Volta knows greater bounds than this armchair music speculator. De-Loused was a gargantuan hit selling over half a million copies on no clear singles, airplay, or significant promotion. Built on the charred foundation of At the Drive-In's sci-fi inspired post-hardcore and infused with Latin jazz, prog rock, and a sprawling sonic landscape, De-Loused helped pave the way for eclectic, ambitious concept albums like Between the Buried and Me's Colors and all those that followed it. Is it weird? Yeah, sure, but we're all a little weird and De-Loused helped make weird cool again (at least for awhile). - Tyler Barrett
99 (tie). The Blood Brothers – Burn, Piano Island, Burn (2003)
"Bulimic rainbows vomit WHAT?!" the Blood Brothers screech on the title track for Burn, Piano Island, Burn. Leave it to TBB to ask the important questions like "Where is love now?" and "Can you knit love's tender touch back into the gang bang?" It's exactly this bizarre imagery that makes Piano Island such a phenomenal album. The words "too weird" never entered into their vocabulary and, while this led to some pretty silly excesses on some of their later albums, here TBB's penchant for weirdness serves them well, with some of the most twisted, violent, and simultaneously ugly and beautiful lyrics in the history of punk rock. Their musical style took post-hardcore and mixed it with some pop-punk sensibilities, creating a testament to what punk could become if it were allowed to evolve without rules, without boundaries, and most importantly, without fear. - Julie River / truthbealiar
Among the slew of 2000s garage revival "The" bands, UK's The Libertines were, if not the most prolific, certainly the most storied. While frontman Pete Doherty's offstage antics made headlines worldwide, his band was forging a crisp return to rock and roll's roots. Their 2002 debut Up The Bracket remains their finest hour. The Libertines, with their raucous, dirty, R&B-infused garage rock sound, were both critical darlings and commercially viable. Following the self-destruction of Britpop in the late 90s, The Libertines found an abandoned guitar cord laying in a filthy back alley, plugged it back in without wiping it off, and started British rock over again from scratch. They took the reckless abandon of a young Rolling Stones, mixed in the greats like The Jam and The Sex Pistols that had come since, and out swaggered a nu-classic rock sound that would come to define a decade. - Chris Kanner
94 (tie). Screeching Weasel - Teen Punks in Heat (2000)
This is the last proper Screeching Weasel album. That is to say, it's the last album born of the creative partnership of both Ben Weasel and John "Jughead" Pierson. The SW that exists today is something entirely different. If Teen Punks In Heat would have been the band's swan song, it would have been a good one. The record was full of Screeching Weasel's signature fast, snotty punk. In truth, "The Edge of the World" would have been a perfect way to end things. - Tom Crandle
TPR took a major risk on their fourth (and last) LP, and while it went largely unappreciated at its release, Wood/Water is looked back upon as the finest work of their career. Over those four albums, the band went from stalwarts of 90s emo, to pop punk, to this album's rich indie rock stylings. Perhaps the jump from their previous album to this disc was too much too quickly: crunchy power chords shifted to acoustic open chords and smooth electric tones, pounding backbeats transitioned to tasteful strokes and auxiliary percussion; not to mention the lush keyboards in the mix that filled out the sound. But songs like "Stop Playing Guitar," "My Life is at Home," and "Say Goodbye Good" showcase frontman Davey VonBohlen's songwriting growth. With a sound that would become popular with indie rock bands in the decade to come, Wood/Water was simply an album ahead of its time. - Greg Simpson
94 (tie). Minus the Bear - Menos El Oso (2005)
Their second album, I think this is my most beloved of all of the records. The title literally translates to Minus The Bear in Spanish. Menos El Oso is filled with such fun and dance-y tracks with points that would chill you out into some snoopy dancing. The lyrics are intelligent and guitarist/vocalist Jake Snider's lyrics and vocal ranges really enhances the mood and mathiness of this album. The entire album works together as a whole and encompasses a cohesive feel musically. - Samantha Barrett
A major evolution for Bomb the Music Industry! as the band's first "studio" album, it saw the synth-ska collective embrace more acoustic arrangements in lieu of their established brand of midi instrumentals, resulting in a more organic, folkier sound. Though Get Warmer is generally overlooked or dismissed by fans of the band, it boasts some of the best-written songs in the Bomb the Music Industry! discography and cuts like "439 Ruth," "Depression is no Fun," "No Rest for the Whiny," and the larger than life title track all demonstrated the capacity of the band in its new form. - Sean Crawford
92 (tie). Wilco - Yankee Hotel Foxtrot (2001)
For an album that very nearly never got released, Wilco couldn't have asked for a greater success than their fourth full-length, Yankee Hotel Foxtrot. Monumentally hailed as one of the finest albums of the decade (and indeed, ever), the architects of the alt-country explosion of the 1990s outdid themselves on YHF. Jeff Tweedy and company, fresh off their collaborations with Billy Bragg, delivered the most twisted piece of Americana in recent memory. The lyrics here are painful, lonely, and fascinating, while the production is surprisingly experimental for what ends up sounding like a classic AM rock record from the 70s. - Chris Kanner
92 (tie). The Thermals - The Body, The Blood, The Machine (2006)
The Thermals were an indie punk rock band based out of Portland, Oregon that, unfortunately, disbanded in 2018. This album, their third, was my entry into their music. A mix of lo-fi rock with punk, mingled with the political and religious imagery that the band was known for was something that stood out to me as atypical from the punk rock I grew up with and had gotten to know so well. Also atypical of punk rock albums in general, this was a concept album, telling the story of a couple trying to escape a country run by a theocratic, fascist regime, making it as relevant today as it was back then. The album was similar to the band's previous works but at the same time more dynamic and ambitious… 36 minutes of apocalyptic delight. - Steve Long
Total, Teenage Bottlerocket's sophomore album, was their first as a four-piece as well as the first to feature Kody Templeman. While the band had established their Ramones-esque sound on their earlier releases, it can reasonably be argued that the "TBR sound" was solidified on Total. Energetic and wildly enjoyable, it is a recipe the band has served time and again. The album has a timelessness to it which, as some argue, may be due to the band never really expanding on their style (I disagree), but still makes it a blast 14 years later. - Jeff Sorley / thewhitedrewcarey
88 (tie). Say Anything - …Is A Real Boy (2004)
Max Bemis and Co's first proper album found them emerging on the national scene fully realized. The genius of this album is while it is viciously skewering the emo of the time, it simultaneously bests most of those bands in their own style. When Bemis spins these overly-dramatic yarns, he is backed by powerful slamming drums and thick stop-start guitars and the occasional synth. Satire usually isn't supposed to beat what it is satirizing at its own game! Listening to …Is a Real Boy with the rock opera idea in mind shows its genius, but many listeners took it as face value and loved it too, putting it among the ranks bands that paved the way for this type of emo such as Saves the Day. A truly remarkable feat, especially for a debut. - Greg Simpson
It seems that the overall reception of Me First & the Gimme Gimmes albums have typically been tied to how wide or narrow they've focused their theme. Their (arguably) best album, Blow in the Wind falls under the more broad category of 60s songs, and lands every track. As usual, Me First opens quite a few songs with recognizable intros to famous punk tunes but, regardless of that, their deft hands continued to improve the composition and musicianship in covering many of these classics, making one of their most memorable albums in the process. - Jeff Sorley / thewhitedrewcarey
BtB&M had showed hints of their ambition before, specifically on tracks like "Selkies: The Endless Obsession" from 2007's Alaska. However, nobody could have prepared for Colors. Imagine a group taking every stylistic risk possible, and having them all pay off completely. So much is made of this album's progressive bent and experimentation, it's easy to forget how HEAVY this thing actually is. Colors is the Sgt. Pepper's… of death metal. - Tori Peterson
84 (tie). Taking Back Sunday - Where You Want to Be (2004)
This album really did the unthinkable and matched what Tell All Your Friends did. And on certain days, it really surpasses it. I can't describe the awesome buzzy feeling of these tracks properly but I'll always remember that when I heard "A Decade Under The Influence" I felt the same way I did when I heard "Cute Without the E"… enamoured. These records got me through university as well, and no matter what, I'll always love how Adam Lazzara and co. kept it fresh with this sophomore piece. - Renaldo Matadeen
84 (tie). Taking Back Sunday - Tell All Your Friends (2002)
This album will forever hold a special place in my heart. It wasn't just about Long Island punk, or emo punk, it really connected with high school people and the concept of the other. I mean, it helps that it's some of the catchiest, cheesiest shit ever, but still it really is one of the most relatable and singalong albums I've ever heard. I've seen TBS multiple times at music festivals, and always gravitate just to hear them wax on about sappy romance and how we're all suckers for it. - Renaldo Matadeen
84 (tie). M.I.A. - Kala (2007)
Like the punched-in shotgun blasts that punctuate ripped "Rumpshaker" rhymes from her Clash-backed single "Paper Planes," M.I.A. exploded onto the mainstream in 2007 with her sophomore smash Kala. Bolstered by heavy featuring in Slumdog Millionaire and Pineapple Express, the song became instantly iconic, sampled and interpolated by the world's hottest rappers and transforming M.I.A. and producer Diplo into household names. Coalescing an eclectic and memorable supporting cast of songs, Kala was recorded in various locations around the globe incorporating sonic elements from the cultures and musical traditions therein. The droning didgeridoo of "Mango Pickle Down River" featuring indigenous Australian child rap crew The Wilcannia Mob and the Caribbean-influenced soca of "Boyz" pair surprisingly well with the Indian disco of "Jimmy" and Sri-Lankan "Bird Flu." Though her debut Arular showcased her talent as a multi-medium artist in video, fashion, graphic design and music production, Kala cemented her status as a hitmaking provocateur who could remain musically and culturally relevant for no less than a decade thereafter. - Tyler Barrett
The Bouncing Souls hold such a special place in my heart. The Souls catalogue embodies simple, fun punk rock songs that resonate and transcend through time. 30 years of being a band has not slowed them down and I am thrilled to write a blurb about my all-time favorite Souls album. Anchors Aweigh is not only in my opinion the most personal/intimate and deepest album that the Asbury Park punks have written but the most cohesive packaged collection of songs that works so well together as an album. These songs make my heart swell with happiness, and they come with a much more mature musical content than their previous efforts. Whenever they play Anchors Aweigh you can find me crying near the pit. - Samantha Barrett
The Postal Service was made up of Death Cab for Cutie's Ben Gibbard and producer Jimmy Tamborello, also known by his solo alias Dntel. I doubt these two guys had any idea that their sole record would invent an entire genre, but that's what happened. Not only would this record take electronic dance music and chill it out, emo style, but it would launch the entire career of coattail-riding bands like Owl City and make every indie musician think they could also put out a synth record. Backing vocalist Jenny Lewis, from the amazing Rilo Kiley, appears often and lends another layer of sweetness to the proceedings. - Greg Simpson
81 (tie). Radiohead - Kid A (2000)
I picked this album up at the library the year it came out; I'd always enjoyed Radiohead in the past so I figured why not? It was unlike anything I'd heard before, this down-tempo synth rock that was somehow calm but still had this sense of paranoia and isolation to it as well. It was also musically dense, which appealed to the band geek in me. The saddest thing about this album, it came out at a time when I was still so obsessed with being punk rock, I could never admit to liking it. - Johnathon Gallienne / Johnathon1069
81 (tie). Andrew Jackson Jihad - People Who Eat People Are The Luckiest People in the World (2007)
Andrew Jackson Jihad, or simply AJJ as they are now known, have gone on to make some truly interesting, arguably better records in the intervening years, but nobody has ever made a better folk-punk album than People Who Can Eat People…, before or since. The last three tracks, specifically, represent the absolute peak of the genre. - Tori Pederson
This is one of the best straightforward rock and roll albums of the 2000s. At this point, the band was somewhat of a supergroup with Josh Homme as the head of the hydra. He was a master of chugging guitar riffs but behind him was one of the rock's best assembled teams. Former band member Nick Oliveri adds a wildness while Mark Lanegan gave himself to the songs' dark atmosphere. But it was Dave Grohl's assault behind the drum kit that made Songs for the Deaf a true masterpiece. Stripping himself of his previous bands' shadows, Grohl let loose and beat the hell out of the kit for the first time in ages. - Nick Poyner
78 (tie). Tom Waits - Real Gone (2004)
Despite Tom Waits' reliable use of piano on even the most experimental of his 14 previous albums, Real Gone's lack of it does no harm. Waits ditched his old standby to instead play around with turntables, beatboxing, and hip-hop deliveries on tracks like "Top of the Hill", "Shake It" and "Metropolitan Glide". Yes, there are far more classicist Waits tracks here (the ultra creepy "Circus", the mournful blues of "Make It Rain"), and a rare political statement (the deeply moving "Day After Tomorrow"). But in the two-year gap since his previous release, Tom Waits seemed to have aged just a little bit backward on Real Gone. - Chris Kanner
Strangely, Blackout was the first Dropkick Murphys album that I had heard in its entirety. I was never really a big fan of the band until I heard the song "Walk Away" from this album and because of it, I became of fan. In addition to the aforementioned "Walk Away," it also included some great tracks such as a re-recorded versions of "Fields of Athenry" and "The Dirty Glass." This album gave more momentum to the Boston-based band's formulaic mix of traditional Irish music with punk rock that they have continued to stick with today. If it ain't broke, why fix it? Complete with serious, meaningful lyrics, along with catchy vocals and superb guitar playing, this emotionally-charged album is a great one for first timers that want to be introduced to their sound. - Steve Long
77. U2 - All That You Can't Leave Behind (2000)
U2 ushered in the new decade by shedding the art rock and dance experimentation that defined their three 90's albums. On this album, U2 returned to their roots by acting their age. These are twelve solid, hit-worthy rock gems, without a hint of filler among them. …Leave Behind brings back what made U2's early works so special: intimate, honest, and hopeful lyrics, wrapped in stadium sized anthems. Say what you will about Bono's pretentiousness or the band's ties to corporate America; here they proved that they, and rock & roll in general, still have heart. - Chris Kanner
76. GWAR - Violence Has Arrived (2001)
In the mid-to-late 90's GWAR's music became… questionable. On the three releases before VHA the band moved away from their more metal-ish roots into a campiness that sometimes worked, sometimes didn't. Too often songs became sloppy and were notable more for their humor than for actually being listenable. For VHA, the Scumdogs bounced back across that line and turned in one of their thrashiest albums ever. The shock and gore humor is still there but, on many songs, it takes a backseat to music and composition. Blisteringly fast, angry and, above all, one of their best albums to date. - Jeff Sorley / thewhitedrewcarey
Top 100 of 2000-2009: #100-76 Mixtape
Each day this week we'll include a nifty little Spotify playlist for you to check out a track from each entry.
Trivia Nuggets
- There were 1089 unique album picks across 17 poll participants.
- 8 albums made it to into the Top 100 with the least amount of votes (2 each); but with scores high enough that, when combined, pushed them into the Top 100: The Blood Brothers - Burn, Piano Island, Burn, GWAR - Violence has Arrived, M.I.A. - Kala, Minus The Bear - Menos el Oso, Screeching Weasel - Teen Punks in Heat, Taking Back Sunday - Where You Want To Be, Teenage Bottlerocket - Total, Tom Waits - Real Gone.

Methodology
17 Punknews reviewers, writers, and editors participated in this poll. Each chose their Top 100 albums of 2000-2009, assigning each album a point value with 100 being the highest, and 1 being the lowest. The point values for each album were then tallied and then they were sorted from highest tallied score to lowest. The top 100 albums were chosen to fill out the list.