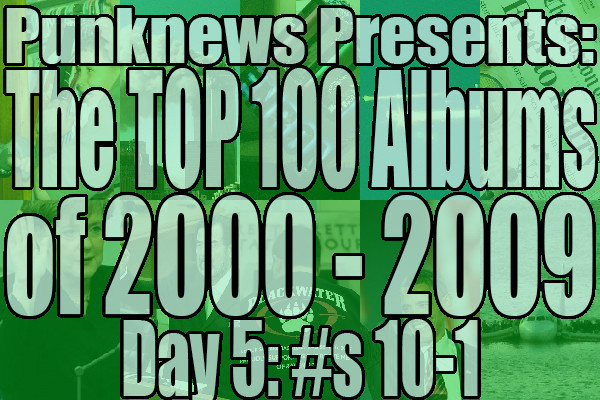 This is it! The grand finale! The big Wahoonie! The moment you've all been waiting for where we (finally) get to the Top 10 Albums of 2000-2009! For the Top 10 we have also included their final scores for your consumption.
Gird yourselves…
10. Bad Religion - The Empire Strikes First (2004) - 399 Points
The Empire Strikes First was the thirteenth studio album by Los Angeles-based punk band Bad Religion. It was released by Epitaph Records in June 2004 and produced by Brett Gurewitz and Greg Graffin. Overall, this one was a little slower paced than their earlier work, but it showed a more mature side of the band. The songs are insightful and intelligently written like you would expect the songs on a Bad Religion album to be. The main themes of the album, war and God, were inspired by the administration of George W. Bush and the lyrics remain topical and relevant even today, 15 years later. -Steve Long
9. Bouncing Souls - How I Spent My Summer Vacation (2001) - 427 Points
The 5th full length by Bouncing Souls, 2001's How I Spent My Summer Vacation, is widely considered to be their signature release. Simultaneously a summation of past releases and a foreshadowing of things to come, Vacation stands out among the best the band has ever offered.
"That Song" and "Private Radio" come out of the gate with boisterous celebration of music itself. 'Music about music' can walk a very thin line between the sincere and the corny (I'm looking at you, Huey Lewis), but the Souls thankfully stay on the honorable side.
Tracks like "True Believers", "Manthem", and "Gone" became mainstay anthems of the 90s-00s punk revival. Living independently, keeping your friends close, positive thinking, going to shows; yes, we'd heard it all before. But something in the Bouncing Souls' delivery, and in their very spirit, makes songs like these and others shed their air of cliche. Instead we get pulled in, we become part of this world, and the only natural reaction is to scream along at the top of our lungs. In a time in the punk universe where any whiff of a lyric regarding a romantic relationship would result in the giant red stamp saying "EMO" being slammed down, the Souls were never afraid to tackle the subject. Sorry kids, but love happens, and getting your heart ripped out does too. Bouncing Souls wear their hearts on their sleeves ("The Something Special", "Lifetime", "Break-Up Song") with such a keen sense of self-awareness- this admitted masculine fragility- that we're too busy taking stock of our own behaviors with our partners to worry about our punk cred.
Sandwiched between the experimental Hopeless Romantic and the introspective Anchors Aweigh, How I Spent My Summer Vacation holds its own, playing like a best-of collection and going on to inspire countless new punk bands. -Chris Kanner / Xisdc
8. Fugazi - The Argument (2001) - 446 Points
It was Rage Against the Machine (coincidentally thanking Ian MacKaye in the liner notes of their eponymous debut) who coined the term "calm like a bomb," but it was MacKaye's band Fugazi that actually accomplished it. Despite Fugazi's sonics reaching an occasionally serene keel here in 2001, the intensity built into each hush is palpable. The pregnant pauses of 13 Songs have given way to purposeful impassivity and a well-composed outrage in more ways than one. Beyond mere musings though, MacKaye's delivery on the album's temperate title track seems almost half-aggro, oscillating occasionally off the lead guitar melody to declare, as a matter of fact: "I'm on a mission to never agree."
Call it hardcore, post-hardcore, or punk rock but please don't compare it to Radiohead because implying such pretentious calculation is an insult to a band as earnest and abstemious as they come. It's as close to a fully-evolved artist as perhaps we'll see (most start regressing by the time their sixth full-length has been conceived) and it feels wholly informed without being overly erudite. Further, The Argument serves as a vector for a smoother, less abrupt transition from Fugazi to MacKaye's post-Fugazi endeavor, the Evens. Minimalist, unmarketed and statement-making, the Evens are no replacement for Fugazi but they do carry its spirit. Back to the task at hand, we're dancing about architecture trying to explain The Argument and if you haven't heard it, this blurb will interest you no further. Listen, don't read. Listen and learn.
The Argument is one of the greatest albums of the new millennium. -Tyler Barrett
7. Against Me! - Searching for a Former Clarity (2005) - 472 Points
Searching for a Former Clarity was very much a transition record for Against Me!. Their second Fat Wreck Chords release displayed a folk punk band becoming a full on punk rock band. While not everyone embraced the change, the quality and variety of the songs was undeniable. From the personal ("Justin"), to the political ("From Her Lips to God's Ears [The Energizer]"), Searching for a Former Clarity is still arguably the strongest collection of Against Me! material to date. -Tom Crandle
6. The Gaslight Anthem - The '59 Sound (2008) - 492 Points
The '59 Sound was truly exciting. When it dropped in mid-August of 2008, nearly everyone in the punk scene, particularly the branch that frequents this very website, was obsessed with it. It's the rare kind of album that feels both timeless and fresh, even over a decade later. My impressions upon first listen went something like, "Wow, what a great opener." Followed by, "What a great 1-2 opening punch." "Okay, great 1-2-3 punch." "Okay, great first side." "Good lord, every single track on this thing is a masterpiece!" This record pushed The Gaslight Anthem further than most of us thought a band like them could ever go. By the end of the album cycle, the group were playing late-night talk shows and headlining rooms that they had been the opener in just a year prior. It's a phenomenal record, top to bottom. Brian Fallon's lyrics were at their poetic best, and the band were just ON FIRE. The first comment I ever left on Punknews, years before becoming a staff reviewer, was to say how much I loved this record. The first review I ever wrote for Punknews was for a Gaslight show on this album cycle. This record changed my life in more ways than one, and I know I'm not alone in how much it broadened my musical horizons. You didn't used to see a ton punk kids wearing Springsteen shirts, listening to soul music and Miles Davis. After The 59 Sound, you did. -Tori Pederson
5. Rancid - Rancid (2000) - 516 Points
There were two times in their career when Rancid approached the brilliance of their predecessors, Operation Ivy. The first was on 1995's …And Out Come the Wolves, and the second time was on their second self-titled album released in 2000, often known by the name Rancid 2000. The album drops almost all of the band's ska elements in favor of a pure, lightning fast, power-packed hardcore punk album. With 22 tracks on the album, and only five of those tracks passing the two minute mark, the album barrels through 40 minutes of classic hardcore style, breathing life back into Rancid after their uneven 1998 release, Life Won't Wait. And where else are you going to find a hardcore punk song about The Canterbury Tales, followed immediately by a hardcore song about the Norse god of mischief? Tim Armstrong's raspy voice punches through as fast and powerful as the guitars, while Matt Freeman's basslines absolutely dazzle and Brett Reed's drumming is phenomenal. It's an album that somehow makes a very classic style sound new again, and it made Rancid sound vital and relevant again. -Julie River / truthbealiar
4. The Hold Steady – Boys and Girls in America (2006) - 522 Points
It's fitting that the cover art on Boys and Girls in America looks like a celebration, because this album feels positively triumphant as The Hold Steady finally hit their stride with their third album. Not that their first two albums weren't excellent, but from the glorious opening chords of the first track, "Stuck Between Stations," it's clear that The Hold Steady have transcended everything they've done before as a band and entered a whole new level of their career. Peppered with references to great literature and hard drugs, Craig Finn's lyrics weave a colorful tapestry, still telling stories as he always does, but this time in short vignettes instead of one long concept album like on Separation Sunday. Finn is one of the most gifted songwriters in music today, and every track is simply astounding in how raw yet clever his lyrics really are. Admittedly, some of Finn's lyrics get mildly sexist, but it's hard to focus on that when he's also being just so damn smart. Franz Nicolay's keyboards add a dreamy and even hopeful sound, while Tad Kubler's muscular guitar gives the album a hard edge that really makes the songs pop. 13 years later, Boys and Girls in America, despite being at times cynical and dark, never fails to put a smile on my face. This remains in my top five favorite albums of all time, and is undoubtedly my favorite album of the 2000s. -Julie River / truthbealiar
3. At the Drive-In - Relationship of Command (2000) - 526 Points
At The Drive-In began as an act that aped the greats of post punk from Fugazi to Jawbox to Quicksand, but quickly carved out their own space in the underground rock world, also bringing ROCs (rockers of color) into the spotlight in a genre full of white men. They had just released the near-perfect Vaya EP and it was clear guitarist Omar Rodriguez-Lopez and vocalist Cedric Bixler were starting to get really into prog rock, guitar pedals and stranger and stranger song topics. But ATDI had three more members to tether the more indulgent tendencies of their increasingly-big-haired bandmates. There was Jim Ward also on guitar, Paul Hinojos on bass and Tony Hajjar on drums, who all brought a powerful crunch that anchored the record, keeping them from floating away in the bloated prog rock behemoth that Mars Volta would become. Relationship of Command has a palpable push and pull, and for every longer and stranger song there was a tight post punk jam with plenty of dissonant chords and Bixler's unbridled howls. The new stranger side of the group is showcased expertly in the outstanding "Invalid Litter Department" with its lyrics of lengthy strings of college government class vocabulary and spooky ambient textures. A standout of the old-school ATDI rockers quotient is the sub-three-minute "Rolodex Propaganda," a song that's somehow aggressive and silly, with the line "manuscript replica!" echoing between Bixler and Ward in increasingly wacky ways while a synth splats and swooshes in the background. Sparta would put out a couple of good records as would Mars Volta, but then they both floundered it what seems, in retrospect, obvious ways--Mars Volta got too long winded and plagued by wankery, while Sparta stagnated in the style ATDI had already perfected by 1998 with In/Casino/Out. Relationship of Command is a perfect record, capturing a powerhouse of a band at their apex, about to come crashing down with interband drama that would splinter them into two camps. While they would eventually reunite and make the spotty in•ter a•li•a 17 years later, creative differences ensure that they will most likely never top this record, if they even make another. But for now, we can continue to jam on Relationship of Command and think of what could have been. -Greg Simpson
2. The Weakerthans - Reconstruction Site (2003) - 531 Points
In 2003 The Weakerthans gave us their masterpiece. From beginning to end, Reconstruction Site is a tour de force of composition, talent, and songwriting. One becomes even more personally invested in the songs, enveloped as it were in the environment the music creates.
Bucking the trend from their two previous releases, opener "(Manifest}" is an up-beat start to an album that grabs you by the collar and doesn't let go. From hating Winnipeg to the Elks Lodge, Samson and crew takes us on a trip which, at the end, you can't stop yourself from turning back around and hopping on again.
Of course, the album can't be discussed without mentioning the first part to what has become one of the most depressing song trilogies in existence. At the time, "Plea From A Cat Named Virtute" was simply an incredibly clever, well-written, and infinitely catchy song taken from the viewpoint of a cat lamenting its owner's ingoing depression. Only The Weakerthans could put you into the mind of a cat and make it seem so true. In hindsight, the two follow-up songs add a bit more uncertainty the Virtute's efforts here… adding a bit of bitter sweetness to a song that, alone, indicates a more hopeful nature.
The Weakerthans would go on to release one more studio LP and a live album before quietly calling it quits. However, in 2003 this band reached that oft-searched for, rarely-achieved pinnacle of creating an nearly flawless album. -Jeff Sorley / thewhitedrewcarey
And now… the moment you've all been waiting for… the #1 album of 2000-2009… drumroll please…
1. The Lawrence Arms – Oh! Calcutta (2006) - 571 Points
Oh! Calcutta! is the best Lawrence Arms record. It is also a punk rock classic.
While their back catalogue was strong, this was the record where everything coalesced. Most notably, while Brendan Kelly and Chris McCaughan had previously switched off vocal tracks, here they harmonized and overlapped. Everything on Oh! Calcutta! found The Lawrence Arms at their best, perfect flourishes of pop blended into the group's natural fast-paced sound. Everything you loved about The Lawrence Arms – Kelly's raspy vocals, McCaughan's storytelling, Neil Hennessy's drums – remained intact, just done with added proficiency.
Every track on the album held weight, from first single "The Devil's Takin' Names" to the Warped Tour-takedown hidden track. There were topical politics ("Recovering the Opposable Thumb") and introspection ("Jumping the Shark"). There were songs with the classic Lawrence Arms sound ("Cut It Up," "Key to the City"). At the center was "Are You There Margaret? It's Me, God." which encompassed all the best parts of Oh! Calcutta! in one track while also repurposing a Judy Bloom title. And then there's "Like A Record Player" which has undoubtedly inspired many punk rock lifers' tattoos. The record was often frantic, but always well thought out, in the same vein as The Greatest Story Ever Told. Even after a first listen, there was the confidence of a band who knew their strengths and utilized them. This is not a record about youthful problems but one that solidified The Lawrence Arms as wise punk rockers with plenty to say. -Nick Poyner

Top 100 of 2000-2009: #10-1 Mixtape
Each day this week we'll include a nifty little Spotify playlist for you to check out a track from each entry.