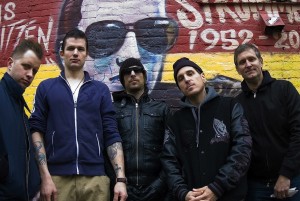 H2O has entered the studio to begin recording their covers album, Don't Forget Your Roots. The band had earlier confirmed what we reported as the completion of the album, but actually had only finished pre-production . The lineup of artists remains largely unchanged from that report, with The Ramones, Dag Nasty, Madball, Rancid, Circle Jerks, Descendents, Cro-Mags, Bad Brains, The Clash, Government Issue, Verbal Assault, Gorilla Biscuits, Mighty Mighty Bosstones, 7 Seconds, Embrace, Social Distortion, Sick of It All and Warzone confirmed for the treatment.
H2O vocalist Toby Morse commented:

This album is extremely important to us. These are bands that inspired us to start a band and who have inspired our personal lives. Also with so many young kids getting into hardcore every day, it's good to always keep exposing them to the ROOTS of this music and getting them into some of the originators of hardcore/punk. We have all gotten to see this bands play live when we were young so covering their songs that made us happy and inspired as kids feels amazing and we feel honored.
The band's last studio album was Nothing to Prove in 2008.