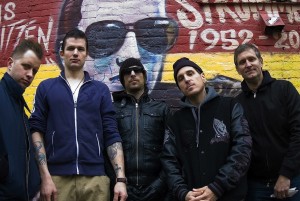 H2O has enlisted actor Michael Rapaport to announce the track listing for their long awaited covers album, Don't Forget Your Roots.
Bands covered are: Ramones, Dag Nasty, Madball, Rancid, Circle Jerks, Descendents, Cro-Mags, Bad Brains, The Clash, Government Issue, Verbal Assault, Gorilla Biscuits, Mighty Mighty Bosstones, 7 Seconds, Embrace, Social Distortion, Sick of it All and Warzone.
The album will be available on LP, CD, and special three 7-inch series. Each 7-inch will feature an exclusive song.
While you can read the track listing below, Rapaport's video announcement is definitely more fun.
Ramones - "I Wanna Live"
Dag Nasty - "Safe"
Madball - "Pride"
Rancid - "Journey to the End of East Bay"
Circle Jerks - "Beverly Hills"
Descendents - "Get The Time"
Cro Mags - "Hard Times"
Bad Brains - "Attitude"
The Clash - "Train in Vain"
Government Issue - "Understand"
Verbal Assault - "Scarred"
Gorilla Biscuits - "Cats and Dogs"
Mighty Mighty Bosstones - "Someday I Suppose"
7 Seconds - "Satyagraha"
Embrace - "Said Gun"
Social Distortion - "Sick Boy"
Sick of it All - "Friends Like You"
Warzone - "Don't Forget the Struggle, Don't Forget the Streets"