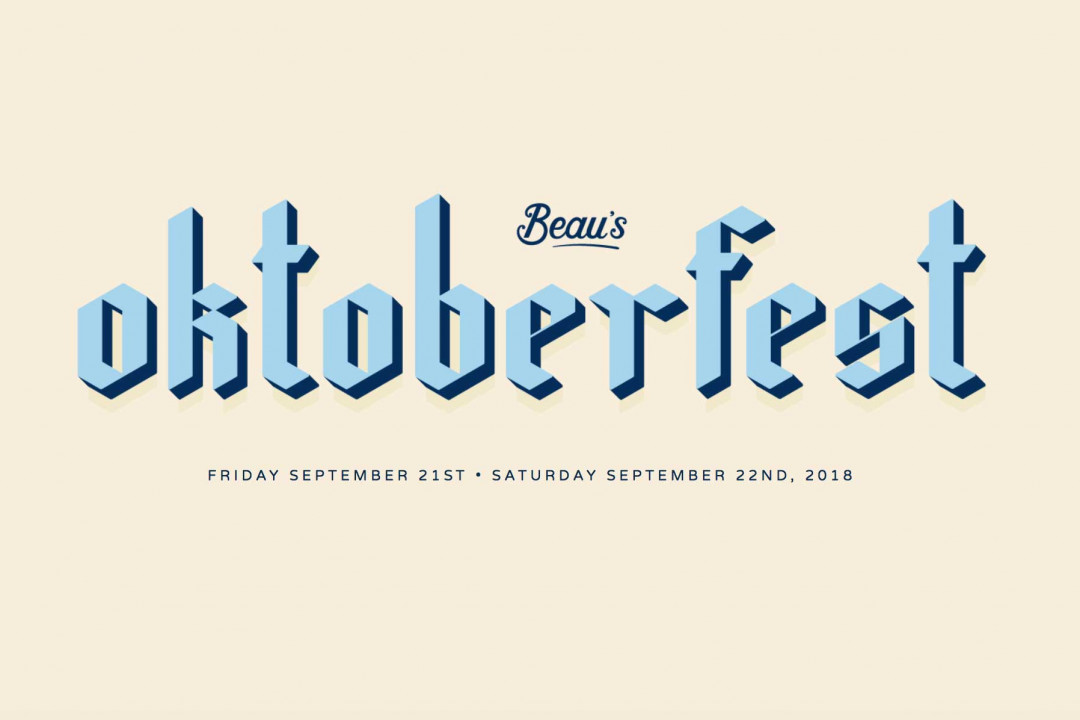 Canadian craft brewery Beau's is throwing their annual Oktoberfest music festival and charitable fundraiser this weekend in Vankleek Hill, Ontario (just outside of Ottawa). The main stage will feature some familiar faces like The Flatliners, Weaves, Sloan, and the Joel Plaskett Emergency, with Cancer Bats headlining Black Forest, a whole area devoted to punk and skateboarding. As an Oktoberfest sponsor this year, Punknews and Some Party took it upon ourselves to profile the up and coming Black Forest bands you may not have heard of.
Beau's describes the Black Forest mission like this:
What Oktoberfest event has a whole area dedicated to punk rock and skateboarding? Beau's Oktoberfest. We've built the Black Forest with help from our friends at Birling, House of TARG, and Vans, with the goal of paying homage to the music and counterculture that brought so many of us at Beau's together in the first place. A tip of the hat to early editions of Beau's Oktoberfest when the stage was more intimate, the Black Forest is an energetic and exuberant music experience.
Black Forest will raise funds this year to support For Pivots Sake, a nonprofit organization founded by the Ottawa skateboarding community to engage and mentor youth in the Ottawa community:
Engaged with the community since its inception in 2012, For Pivots Sake has made great strides with the refurbished decks program, which asks skaters in the community to donate their used skateboard parts (trucks, wheels, boards, bearings, hardware). The crew at Antique Skate Shop create new boards from donated hardware to give back to youth in need of them within the community.
The Bands
Neck
Saturday's lineup will feature an afternoon set from the irreverent Ottawa trio NECK. The band pairs classic Ramones riffs with some tongue-in-cheek Dead Milkmen-style snark. The band's 2015 record, the 21-song Hate To Read, brings this in spades. In the band's own words, it's a set of "unrelenting short rippers written by people with ADD for people with ADD."
Brutal Chérie
A few hours after NECK's cavalcade of nonsense the francophone punk group Brutal Chérie will take the Black Forest stage. This trio's tough take on the genre alternately calls to mind beloved US melodic punk bands like Off With Their Heads and underground sensations like The Spits. The group was formed in 2010 by Thierry Hivon and Simon Deshaies, who had played together in the 90s Montreal band Sexhead. They're joined by Antoine Legault (of The Mata Haris) on drums. The group is supporting their 2017 full-length Antisocial et Brutal, their second full-length, which was released by Parisian punk label Guerilla Asso.
The Stand GT
Originally hailing from the farmlands of Glengarry, Ontario, veteran punk/garage-rock act The Stand GT are well deserving of modern-day re-evaluation. Peers of bands like The Smugglers, the Stand GT was was prolific in the 90s, both in the studio and on tour, crafting a bright, propulsive guitar-rock sound that's aged surprisingly well. Their storied career found the band churning out 45s for Paul Gott's En Guard Records, recording with Kurt Bloch of the legendary Fastbacks, and releasing killer pop-rock singles like "Away From Your Sway" off of 1996's Apocalypse Cow. The Stand GT's frontman Chris Page has remained the most visible of the quartet's lineup, fronting Ottawa bands like Camp Radio and Expanda Fuzz (not to mention his solo career). We spoke with Chris about the band's reunion in an interview last week here at Punknews.
Barrasso
Montreal's Barrasso are fresh off the release of COLADA, the francophone punk band's new 11-song full-length. The five-piece plays soaring melodic punk that, language aside, would have fit well into amongst the late-90s Epitaph roster. Barrasso features guitarist/vocalist Jonathan Beauregard, bassist/vocalist Louis-Simon Bastien, guitarists Étienne Beaupré and Thierry Bourgault-D'Amico, and drummer Francis Paquette. COLADA follows-up the band's 2015 full-length Des X, crosses, dots.
Audio Visceral
Hailing from Beau's home-base in Vankleek Hill, Audio Visceral is a snotty three-piece punk act featuring guitarist Steve Beauchesne, bassist Kevin James, and drummer Gary Doherty. It's no coincidence this speedy pop-punk trio find themselves on the Black Forest stage, as Beauchesne is better known as the co-founder and CEO of Beau's. Back in the late 90s, Beauchesne played in the band Constable Brennan, who frequently opened Ontario shows for prominent visiting ska-punk groups like the Slackers and the English Beat. His bandmates have similar roots. Kevin James played in the early-90s Toronto trio Bender as well as the storied Almighty Trigger Happy. Gary Doherty similarly served time in Trigger Happy, having earlier performed as part of the Thunder Bay punk/metal act Headcramp.
Laureate
Montreal's Laureate occupies a sweet spot somewhere between No Idea styled pop-punk, midwestern emo, and indie rock. They never entirely land in any one of those camps, but in doing so should appeal in all directions. The vocal interplay between Giancarlo Talarico and Erin Power might even fondly remind you of another beloved Montreal punk group, the now-defunct Fifth Hour Hero. Laureate are supporting their 2017 full-length Landmarks, which was released by Jump Start Records.
Eagleson
Eagleson is an anthemic Ottawa area alt-rock band and a past Oktoberfest performer. The group's been busy in the studio crafting big, muscular rock songs like "Chasing the Sun" and the upcoming single "Trapped Under Ice." The group's been working with founding Cancer Bats member Scott Middleton in the studio. Eagleson carries themselves like a stadium rock band, but their efforts are strictly and proudly DIY.
Mental Fix
Mental Fix bills themselves as "East Bay style punk from Montreal" but that needs some to be qualified just a bit. If your mind jumped to Rancid and Green Day, you're not wrong, but Mental Fix branches from their sound in its early 90s form, back when everything still had its rough-edged underground charm. With that in mind, check out the band's 2017 full-length Bricolage, a propulsive 10-song riot of a record that'll have you shouting along like it's 1995. The band released the album on December 31 of last year, with a cassette release on Too Many Notes and an import CD from Japan's Urban Sleep Discs.
The Anti-Queens
A mainstay in Toronto's bar scene, The Anti-Queens play fierce, crowd-pleasing rock shows with influences drawn straight from the Runaways and the Blackhearts. The band features lead vocalist/guitarist Emily Bones on lead vocals/guitar, bassist Mary Deth, guitarist Valerie Knox, and drummer Dallas Conte. They last released the EP Start Running in 2015, showcasing a muscular sound that's equal parts hard rock and punk, all played with a grungy vibe and a heavy metal stage presence.
Ship of Fools
Ship of Fools calls Newmarket, Ontario home. The band plays gruff melodic punk rock; the raw-throated drinking songs made famous by labels like No Idea down in the States. The quartet's gearing up to launch their new 11-song full length, A Perfect Place for Harmony, on September 14. Ship of Fools features vocalist/guitarist Andrew Yeo, guitarist Niall Gunovski, bassist Chris Seymour, and drummer Greg Nathaniel. The band's new record just recently scored a glowing review here at Punknews.
Give Up
Give Up is another band that, like Audio Visceral, hails from the brewery's home base of Vankleek Hill. Of the many Ottawa or Montreal-area groups that features Beau's employees, Give Up might be the only who's entire roster works in the brewery. The grungy rock band features Mike Simpkin on drums, Tim Davis on bass, Marc Doucette on guitar, and vocalist Eddy Earwigg. Doucette also plays in the Montreal metal band Barn Burner. Give Up released a 3-song EP titled You're Dreaming in May of this year.
K-Man & The 45s
You'll find another Beau's staffer amongst the roster of Montreal ska band K-Man & The 45s. The 5-piece marries classic 2-tone influences from bands like the Specials and the Beat with some classic surf rock licks. The band last released a self-titled full-length on Stomp Records in 2016. Look for them near the top of the Friday night Black Forest lineup, directly leading into Cancer Bats' headlining set. There's a tonal shift for you.
Lost Love
Montreal pop-punk group Lost Love will take the catchy, Weezer-indebted tunes from their recent LP Good Luck Rassco to the Black Forest stage on Friday night. The group commented to me about their penchant for unabashed positivity in troubling times:
Guilhem Benard (vocals/bass): Actually, the first songs we wrote and recorded when we started the band were darker. With a name like "Lost Love," it's clear we were not in a nice place when we started this project. After playing a lot of shows with those darker songs, I figured it'd be better to sing about positive things. Like burritos and sandwiches.

Olivier Theriault (guitar/vocals): And bees! Also, when you take a look at our song titles, I think it's obvious that we have a good sense of humour even if the world is kinda fucked right now. Like Guilhem said, we're all trying to stay positive and to have a good time.
You can read the full interview here. Good Luck Rassco came out in May on Stomp Records and the French label Guerilla Asso.
Talk Show Host
Toronto power-pop trio Talk Show Host will open the Black Forest stage on Friday afternoon. When they spoke with us last week I was eager to hear how the band handled the blowback to "I Hate Men (I Hate All Men)," a song from their recent EP. The music video raised no small amount of ire from MRA trolls and alt-right wingnuts online:
Chris (guitar/vocals): It took almost a full year for the blowback to start; we dropped the video in March and it got picked up by Punknews, which actually gave us our first taste of the kind of Dude Response that would eventually flood the YouTube page (i.e. "these soyboys are just using the feminist card to get laid"). BlankTV reposted the video and that's when we started getting the real hate-filled stuff. It was all mostly the same talking points repeated endlessly (I'd never even HEARD the term "soyboys" before and now I've proudly added it to my list of self-descriptors), although the most unsettling part was when it got picked up by an MRA news site and they carefully listed the names of the women we'd worked with on the song and the video at the very top of the article. Of course, they didn't mention any of us by name…
You can find the full interview here at Punknews. Talk Show Host has a pair of new songs available this week as part of a three-way split release on Montreal's PCT Musique with Belgium's Chump and France's BIAS.
The Trapt
Finally, let's talk about The Trapt, a band that's proven notoriously difficult to do any meaningful research on. That's partly because their short career was entirely pre-internet and pretty much localized to the Ottawa scene of the time, but also because the namespace has been muddied significantly by later groups with similar names. The capital punk band was active at the end of the 80s, putting out a single 45 during that time titled A Minute Late… A Dollar Short. It came out on the Trashtone Sound Products label, which has similar discoverability problems in 2018.
The Trapt did leave something of a legacy though. The band's fondly remembered by those who had the privilege to see them play. The group toured with The Stand GT, The Ripcordz, and Random Killing in 1990. In fact, The Stand drove around with a live bootleg of The Trapt in their van's tape deck for years. While that cassette was eventually stolen, it did introduce the song "Keep Your Engine Clean" into the Stand's repertoire (they ultimately covered it in the studio for their Apocalypse Cow record). The Trapt have played a few reunion shows in recent years, but their biggest comeback performance will be on the Black Forest stage this September. Go listen to their song "Car Bomb" below, it's a forgotten Canadian punk classic and (dare I say it) calls to mind the scrappy energy of late-80s Bay Area bands like Operation Ivy.
Punknews.org is a media sponsor of Beau's Oktoberfest this year. This story is part of a reporting partnership between Punknews.org and Some Party, a weekly newsletter covering independent Canadian rock music. Subscribe at someparty.ca.