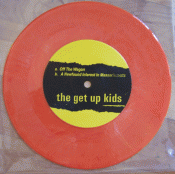 The Punknews.org Vinyl File is back for week two. With a growing interest in collecting records, we hope to keep you informed with what's out there so you can find it now and don't have to sell everything you own to get it on eBay seven years down the road. Once again this column comes courtesy of New Brunswick's greatest export, Ben Conoley.
This week debuts a new aspect of the column: the Vinyl File spotlight. Each week along with the list of upcoming wax we'll take a look at an interesting vinyl release that you may have never seen. In the future we're planning to bring you a look at some of your favourite band's own collections. This week we're looking at the Get Up Kids' Loveteller 7".
Also below you'll find a list of some great upcoming vinyl releases from bands like the Sex Pistols, the Draft, The Arrogant Sons of Bitches, Fucked Up, Appleseed Cast and more.
Click Read More for the full article.
VINYL FILE SPOTLIGHT
The Get Up Kids' Loveteller single has always been readily available on vinyl. It was their second release and the third to be put out by Contrast Records. While it only contains two songs, both 'A Newfound Interest In Massachusetts' and 'Off the Wagon' have been argued to represent the one of the greatest song-writing phases the band went through. Originally released on May 5, 1997, it recently received it's final pressing - a very special one at that.
The final pressing of Loveteller was limited to just 210 copies. That's not special in and of itself, but the packaging it came in is what made this swan song so special. Label owner Al Barkley, while on a trip to Nepal, picked up some hand made paper made by a local women's collective. After bringing it home, the paper was used to make sleeves for the 7." Half the copies were made with orange paper while the other half were made with red, each copy (save for a few) were also hand-numbered). Each 7" was wrapped with a strip of paper of the opposite color and sealed with a sticker. "Get Up Kids" was spray-painted onto each cover using a stencil and to top it all off, an actual photograph of the band was hand-glued to every cover.
Most of the 210 copies were printed on solid orange vinyl. However, ten of them were variants that ranged from swirly black to orange with small black swirls in them. This occurred when the pressing plant switched from black to orange wax.
A further 800 black 7"s were released with the old cover. They were pressed to fill up 800 extra covers left over from when the pressing plant responsible for the fifth pressing went out of business.
More information on Loveteller can be found here.
THE PUNKNEWS.ORG VINYL FILE
As mentioned last week Alkaline Trio's Remains came out on vinyl on Tuesday. In the last week some information on pressing info has come up. In addition to being on black vinyl, there are also copies on turquoise marble, green/grey marble, yellow (available only at Hot Topic) as well as some very limited variants on blue and opaque green. It's said that the total number of copies presses is 5,000. If we're wrong, let us know.
The latest news from No Idea is that The Draft will be releasing a new 7" via the Gainsville label in October. It's going to feature the songs 'We'll Never Know' and 'Hard to be Around it.'
The Sex Pistols have managed to crawl back into the news this summer. Virgin Records has announced a reissue of Never Mind the Bollocks. The reissue is set to drop on October 29 and comes packaged with a poster and 7" single for 'Submission' included with it. The first 50,000 copies of the classic LP were released in a similar fashion before the track found its way in between 'Anarchy in the U.K.' and 'Pretty Vacant.' Following this reissue, the band plans to re-release 7"s of 'Anarchy in the U.K,' 'God Save the Queen,' 'Pretty Vacant' and 'Holidays in the Sun' complete with their original B-Sides.
Headbangers might want to take note on some reissues being offered by Metal Blade's European offices. Each of the reissues will be limited to 500 and will be hand-numbered. The reissues include Amon Amarth''s The Crusher, Bolt Thrower's Mercenary, King Diamond's Abigail II: The Revenge and Six Feet Under's Haunted.
Long Island ska punks The Arrogant Sons of Bitches' final album, Three Cheers for Dissapointment is set to get the vinyl treatment courtesy of Asbestos Records. It'll be available on three color variants and is set to be released for the band's reunion show in October, however Asbestos is currently taking pre-orders.
As previously reported, Fat Wreck Chords will be reissuing classic albums from their catalogue on colored vinyl. They'll be starting with Lagwagon's Duh and will likely be followed by Propagandhi and NOFX classics. This news is in addition to the Me First and the Gimme Gimme Square Dance 7" series mentioned a few weeks ago. Lastly, Fat Wreck is set to release their first album for Toronto's Flatliners in September. The label has announced that The Great Awake will be available on vinyl with 500 on black and 100 on orange.
Toronto's Fucked Up continue with their "Year of" series. Last year the band released the 12" single Year of the Dog. This year's addition to the series, which follows the Chinese calendar is Year of the Pig. The album was available on Fucked Up's last tour and will hit stores in August. Pre orders are available here. Coliseum's new album, No Salvation which will be their first for Relapse Records is set to drop on August 21. It's available for pre-order now at Relapse's web-store in both white vinyl with black and red splatter (/300) and silver vinyl with white splatter (/700).
In other Relapse news, High on Fire has a pre-order available for their upcoming album, Death is This Communion right here.
Goodcore Records has released Appleseed Cast's 1998 album The End of the Ring Wars on double gold colored vinyl. It's limited to 1000 copies. In other Appleseed Cast news, Grave Face Records has released the band's 2000 album Mare Vitalis on vinyl and can be purchased from the label's website.
The Format's Dog Problems is available a year after it was released on CD. You can get it at their webstore.
Dragonforce's debut album Valley of the Damned as well as its followup Sonic Firestorm are going to be available on picture discs come October. Time to start growing your hair.
Ampere and Funeral Diner have a split 9" coming out. The release is being handled by both Electric Human Project and Clean Plate Records. It's going to feature two new songs by Ampere and one by Funeral Diner. They 7" will also have an etching by Mark McCoy. The one time only pressing will have 800 on black vinyl and 200 on dark green.
1-2-3-4! Go Records has a split between In the Red (featuring Gunmoll's Mike Hale) and Git Some. It's available through pre-order now and comes in red (/100) and black (/400) vinyl.
The newest album from Big D and the Kids Table, Strictly Rude is being released on vinyl via Silver Sprocket Labs. The double LP will be on black and white wax and is limited to 1000 copies. It contains a bonus track not avaiilable on the cd version of the album. The label is also offering The Phenomenauts' 2004 record Re-Entry on double 10" red and white wax.
The Casualties have a new live album on the way from Side One Dummy and the label promises it'll also be available as a double LP.
Modern Life is War have a new album coming out in August. Midnight in America will be available on vinyl from Lifeline Records.
Finally, Rock is Hell Records is the latest label to be offering a 7" club. Limited to 400, the Rock is Hell 7" Club will feature relases by Foot Village, Fugu and the Cosmic Mumu, Death Sentence: Panda, Child Abuse, Rokko Anal, Sasqrotch, Bug, Reflector, ZS and Bulbul. You can grab it here.
If you have information about upcoming vinyl releases/sales/repressings/etc, please contact us. Also if you're in a band Punknews covers we'd love to talk to you about your vinyl collection. Email Ben [at] Punknews [dot] Org.