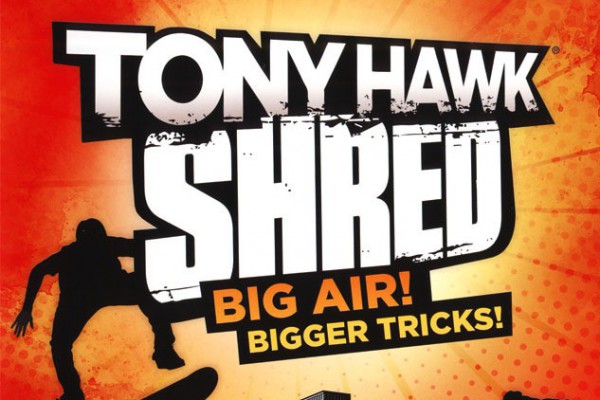 The soundtrack has been announced for Tony Hawk: Shred, the second game to use the skateboard controller bundled with last year's Tony Hawk: Ride. Unlike Ride, the game is apparently aimed at a younger audience and includes snowboarding as well as more arcade-style tricks.
The soundtrack includes selections from A Day To Remember, Anberlin, Appleseed Cast, At The Drive-In, Bad Religion, Biffy Clyro, Braid, Burning Brides, Circa Survive, Coheed and Cambria, Deftones, Devo, Far, GBH, Guttermouth, Hot Hot Heat, Jimmy Eat World, Living Things, Moving Units, OK Go, Rise Against, Rival Schools, Social Distortion, Story Of The Year, Surfer Blood, Ted Leo, Texas Is The Reason, The Comas, The Soft Pack, The Stooges, The Swellers, Vampire Weekend and Yellowcard.
A Day To Remember - "Have Faith In Me"
Aceyalone featuring Bionik - "Workin' Man Blues"
Alice Cooper - "Schools Out"
Amazing Baby - "Smoke Bros"
Anberlin - "We Owe This To Ourselves"
The Appleseed Cast - "Fishing The Sky"
At The Drive-In - "Cosmonaut"
Bad City - "Wildlife"
Bad Religion - "Only Rain"
Baron & Black Mountain - "The End Of The Beginning"
The Beach Boys - "I Get Around"
Biffy Clyro - "Saturday Superhouse"
Bill Haley & His Comets - "Rock Around The Clock"
Braid - "The New Nathan Detroits"
The Brian Setzer Orchestra - "Jump, Jive an' Wail"
Brass Bed - "Pop Mission"
Burning Brides - "If One Of Us Goes Further"
Circa Survive - "Get Out"
Coheed and Cambria - "World of Lines"
The Comas - "Come My Sunshine"
Cornelius - "Free Fall"
Deftones - "Be Quiet And Drive (Far Away)"
Devo - "Uncontrollable Urge"
Far - "Deafening"
Foxy Shazam - "Unstoppable"
Freeway & Jake One - "Throw Your Hands Up"
G.B.H. - "Kids Get Down"
Greek Fire - "Doesn't Matter Anyway"
Guttermouth - "Summer's Over"
The Happy Hollows - "High Wire"
The Henry Clay People - "End Of An Empire"
Hot Hot Heat - "Implosionatic"
Iggy Pop & The Stooges - "Search And Destroy"
Jimmy Eat World - "My Best Theory"
The Law - "Don't Stop, Believe"
Little Fish - "Whiplash"
Living Things - "Mercedes Marxist"
Me First and the Gimmes - "Over The Rainbow"
Mike Posner - "Cooler Than Me"
Moving Units - "Between Us & Them"
Nena - "99 Red Balloons"
Neon Trees - "Animal"
Obits - "Widow Of My Dreams"
OK Go - "This Too Shall Pass"
Orion - "Electro Snake"
Psychosis - "Building Empires"
Psychosis - "Face of War"
Rise Against - "The Good Left Undone"
Rival Schools - "Travel By Telephone"
Royal Republic - "The Royal"
Sam & Dave - "Soul Man"
Sleigh Bells - "Kids"
Social Distortion - "Reach For The Sky"
The Soft Pack - "Answer To Yourself"
Sponge - "Plowed"
Story Of The Year - "The Dream Is Over"
Surfer Blood - "Swim"
The Swellers - "Sleeper"
Switchfoot - "The Sound (John M. Perkins' Blues)"
Taylor Hawkins - "James Gang"
Ted Leo - "Where Was My Brain?"
Texas Is The Reason - "If It's Here When We Get Back It's Ours"
Vampire Weekend - "Cousins"
Yellowcard - "Lights and Sounds"