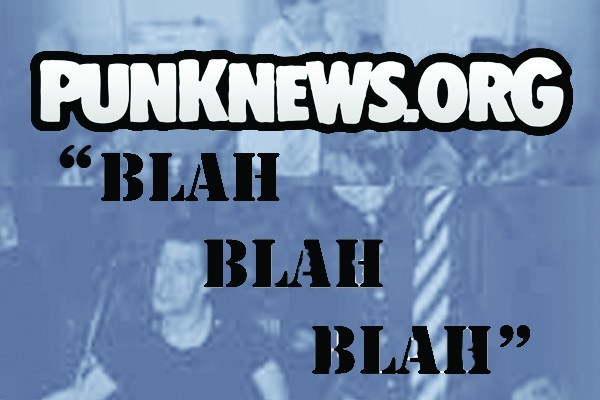 Happy New Year! Our end of year celebrations draw to a close today! (Though, we still will be posting site wide "Best of 2015" lists a little later.) But today, were posting some of the zaniest zingers, the wackiest witticisms, and silliest snaps from Punknews interviews in 2015. Click read more to see what bands and other artists had to say to Punknews in 2015.
"I don't know what an actual producer does or is supposed to do…" Brian Gorsegner of Night Birds on the band's recording process.
"I didn't know the story about Johnny and Joey in love with the same girl and she leaves Joey for Johnny. I didn't know any of that stuff and I found out in a really, really bad way by bringing it up one night just by saying, 'Johnny, how's Linda doing?' And all of the sudden the van got very quiet and I had realized that I had overstepped some unseen boundary there. CJ Ramone on touring with the Ramones.
"'It can't possibly be that I spent the money to make these records and they get to keep them, can it?' Well, yeah, actually it can. That's how that shit works. The music industry is corrupt and you should own your own masters. Blag Dahlia of The Dwarves on his advice to younger bands.
"Robot is decidedly not Mormon at this point, though we have tried."
Robert Selander of Tartar Control on converting his robot drummer.
"We would want to put the time into it to make a really good Loved Ones Record. Personally I think the stuff we have so far could potentially be Loved Ones songs. I feel really good about it, from what I have heard. We have emailed a few files to each other and played a few riffs on song ideas for each other. To me it sounds very promising. " Michael Cotterman of The Loved Ones on recording new material.
"You don't know the true joys of syncing with your sisters. But of course on the pie chart of sisterhood, the joys of syncing is only a small sliver." Bad Canoes on sisterhood.
"It's no joke, there's a hill, with a door in it. Like a hobbit hole. That's the venue. We rented it out, you walk in the door, and it's all stone, man-made cavern. There's red velvet curtains, a table for will call and merch, get your ticket, go through the curtains and you're in this big dome. " Adam Turla of Murder by Death on playing in caves.
"Thing is, people think we come from a really bad background, and that's not the case. I don't want to break the illusion for them, but I also don't want to lie to people. For example, my mom and dad have come out to four of the gigs we've done in the U.S. -- and every time they come out to the U.S. it's to see us or support us. " James Graham of The Twilight Sad on the band's dark inspiration.
"A lot of people of people who hate on religion don't even know what they are talking about. We know why we're hating on religion. We know what we're talking about." Chris Urban of Crazy and the Brains on his religious upbringing.
"He means everything. I have two Morrissey tattoos. I've never met somebody that doesn't care if you don't like him. I'm amazed when punks don't like him. I think he might be the most punk person in the world." Chris Gethard on his love for Morrissey.
"So we used my ex-girlfriend's laptop, because she had one, and we opened up GarageBand and just put it in the corner of the room with the internal laptop microphone on and that is the 7-inch. It's just Jeans Wilder and myself playing live into a laptop, then afterward doing the vocals just screaming into the laptop with no actual microphone." Billy Jeans of Mean Jeans on the band's first recordings.
"What I see now, that I actually have a revenue stream from downloads, each month my iTunes check is dropping like 15 percent, like it's happening that fast, and the only thing that is keeping it up is that I'm adding more titles -- I add more songs and make more things available. But, I'm starting to make a decent Spotify check, and it's growing. So, my iTunes is going down like 15 percent per month, but my Spotify's gaining like 15 percent per month. But, those numbers are different." Scotty Tankcrimes of Tankcrimes Records on the future of the music industry.
"You know how you go to the movie theater and you forget about everything, you're vacuumed into another world. Fest is just like that except it smells like shit and everyone's drunk." Old Flings on Fest.
"Yeah like I was saying – the way people talk to and treat other people, like there's so much bullying. It's more, I feel, to be kind. There are so many people that are fuckin' lame. " Jack Dalrymple of ToyGuitar on the human race.
"Jeff was friends with Axl -- but I knew him by his first name, Bill. He was all rock-dude-ed out and I didn't recognize him and he had these cop glasses on. He lifted them up and was like, 'Monty! Monty! It's me, Bill!' And I was like 'Bill! What the fuck happened to you?!' Monty Messex of Dead Fucking Last on his old friend "Bill" Rose.
"I was working in Philly, and I was paycheck to paycheck, but rent in Philly is relatively cheap, so I had this beautiful three-story row home -- it was a very nice, comfortable place. And then I show up to Zach's house on Touro St… And it's a pretty gnarly shotgun punk house. It was just…very different for me, environment-wise. Jarrett Nathan of PEARS on his new digs.
"Yeah, it's absolutely changed and nothing is the way it was, really. You know, when we were putting records out, that's just what you did. You put out vinyl, you needed to find a label, get yourself into the distribution system, and get people working for you. It's so different now. Labels are somewhat irrelevant; they're more like promotional companies." John Wright of Nomeansno on the modern record label.
"Eeeaaakkk!!! Squaark squark! Chrrrrr. Pieces of eight, pieces of… eight. Errrk!" Waldo of Hatebeak on band dynamics.
" I'm not much of a bowler, not because I don't enjoy it but mainly because I just suck." Al Barr of Dropkick Murhpys on his bowling skills.
"But my daughter does not like anything with electric guitar. She calls it 'rock', very simply. She hears a song, and I go, "Violet, what do you think of this song?" and she hears the electric guitar and she goes "Dad, you know how I feel about rock music." Joey Cape on his daughter's opinion of his music.
"There's a vast world of knowledge out there, but generally, people only go as far looking for an answer until they get the one that they want. I think that's a mistake." Buzz Osborne of Melvins on the search for the truth.
"Was he dressed up as Santa Claus?" Erik Petersen of Mischief Brew on why dAvid Johansen was pelted with beer bottles.
"I don't believe that great art requires great pain. Though pain can inform experience which can surly inform great art. There is no scientific formula and neither great art nor great pain are quantifiable, so, this is all theoretical." Stza of Leftover Crack on art and mental health.
"I think my contemporaries, punk rockers my age, definitely give me shit. I saw Subhumans last week, and people totally gave me shit. They called me by my real name, and I was like, "C'mon guys!" The young kids pretty much avoid me. I think it is because I am so big and tall and scary." Jack Terricloth of World/Inferno Friendship Society on his "secretive" nature.
"People have been commenting on Police brutality for decades. It was happening in our backyard, Pittsburgh, for decades, but it seemed like we were commenting on it instead of commenting in it." Chris #2 of Anti-Flag on police violence.
"Um… this interview isn't only going to be about Danzig, is it? Shawna Potter of War On Women on the Punknews interview style.