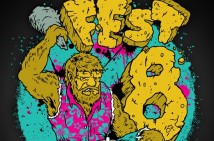 The Fest 8 has unveiled the lineup for this year's event, which will be happening October 30-November 1 in Gainesville, FL.
Bands scheduled to appear include 12XU, 7 Seconds, A Wilhelm Scream, ANS, Above Them, Algernon Cadwallader, Alligator, Altercation Punk Comedy Tour, American Cheeseburger, Ampere, Anchor Arms, Annabel, Assassinate The Scientist, Assholeparade, Averkiou, Bad Friends, Bangers, Banner Pilot, Battle!, Ben Davis & The Jett$, Bible Children, Blacklist Royals, Bomb the Music Industry!, Brainworms, Bridge and Tunnel, Brothers, Caitlin Rose, Calvinball, Capsule, Cheap Girls, Cheeky, Chillerton, Chronic Youth, Cinemechanica, City of Ships, Clairmel, Cloak/Dagger, Coffee Project, Coffin Dancer, Coliseum, Comadre, Constrictor, Crash Burn Repeat, Crime In Stereo, Cruiserweight, Cutman, Dan Padilla, Daniel Striped Tiger, Dave Dondero, Dead Friends, Dead To Me, Dear Landlord, Deep Sleep, Die Hoffnung, Diet Cokeheads, Dillinger Four, Dirty Tactics, Eric Ayotte, Fiya, Failures' Union, Fellow Project, Field Day, Fleshies, Gatorface, Ghastly City Sleep, Git Some, Giving Chase, Good Luck, Grabass Charlestons, Hard Girls, Hawks and Doves, Hidden Spots, Hometeam, Honest Arrow, Hour of the Wolf, How Dare You, In Defence, In The Red, Iron Chic, Itchy Hearts, Japanther, Jonesin', Junior Battles, Kevin Seconds, Kylesa, Landmines, Lemuria, Less Than Jake, Liquid Limbs, Litany for the Whale, Little Lungs, Living with Lions, Look Mexico, Low Red Land, Madeline, Magrudergrind, Maruta, Mehkago NT, Mike Hale, Monikers, Mose Giganticus, Mouthbreather, Nervous Dogs, New Bruises, Ninja Gun, No Friends, No More, North Lincoln, Nothington, O Pioneers!!!, OK Pilot, Off with Their Heads, Old Growth, Only Thunder, Outbreak, Pezz, Polar Bear Club, Pretty Boy Thorson and the Falling Angels, Protagonist, Psyched to Die, Pulling Teeth, Pygmy Lush, Radon, Red City Radio, Rehasher, Religious as Fuck, Ringers, Ruiner, Russian Circles, Samiam, Savage Brewtality, Scum of the Earth, Shang-a-Lang, Shellshag, Shitstorm, Shook Ones, Sick Sick Birds, Sinaloa, Smalltown, Snacktruck, So Pastel, Spanish Gamble, Static Radio (NJ), Street Eaters, Stressface, Strike Anywhere, Strikeforce Diablo, The Arrivals, The Arteries, The Bomb, The Brokedowns, The Casting Out, The Catalyst, The Copyrights, The Disappeared, The Dopamines, The Emotron, The Flatliners, The Future Virgins, The Ghost, The Max Levin Ensemble, The Measure [SA], The Menzingers, The Ones To Blame, The Riot Before, The Shaking Hands, The Sidekicks, The Takers, The Thumbs, The Tim Version, The Tupolev Ghost, This Bike Is A Pipe Bomb, Thousandaires, Tiltwheel, Tim Barry, Tin Armor, Too Many Daves, Torche, Totally Michael, Towers of Hanoi, Toys That Kill, Trash Talk, Tubers, Underground Railroad to Candyland, Used Kids, Vaginasore Jr., Vena Cava, Vicious Fishes, Virgins, WORLDS, Watson, We Moderns, Whiskey and Co., Wormburner, Worn in Red, Young Livers, Young Widows, and Youth Brigade.
Tickets can be purchased at this page and all other pertinent info can be found at the Fest's main website.