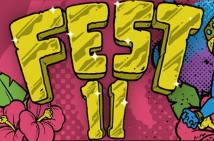 The (actual) lineup has been announced for the 11th annual The Fest in Gainesville, FL. It will take place at 11 venues over 3 days in downtown Gainesville, Florida on October 26th, 27th, 28th 2012. Right now the lineup boasts close to 170 confirmed bands, with more to be announced in the months to come, reaching an expected 250 bands from all over the world by October.
Some notable bands include: Lagwagon, Anti-Flag, Braid, Naked Raygun, Frank Turner, Streetlight Manifesto, Baroness, A Wilhelm Scream, Cadillac Blindside, Off With Their Heads, Polar Bear Club, and Red Fang.
Three-day weekend passes will go on sale April 20th at 1:00pm EST on the event website. Weekend passes will be $85 until July and will increase to $100 each afterwards. Passes allow attendees access to 11 venues each day, with bands playing round the clock from all over the world.
Cadillac Blindside (Reunion)
Asshole Parade
Dan Vapid and The Cheats
Creepoid
Black God
The Catalyst
City Mouse
Direct Hit
The Emotron
Enabler
Heartwell
Koji (Full Band)
Masked Intruder
Run Forever
The Snips
Static Radio
Vacation Bible School
Nato Coles and the Blue Diamond Band
All Dinosaurs
All Eyes West
Best Practices
Black Clouds
Blank States
Cougs
Dudes Night
Edhochuli
Ex-Boogeymen
Hop Along
Jowls
Karbomb
Life Coach
Ma Jolie
Maladroit
Mark McCabe
Nothing In The Dark
Now People
Perdition
Pity Party
Pure Graft
Saintseneca
Samuel Caldwell's Revenge
Solids
Sour Boy
Bitter Girl
Stable Boys
Strong City
Traveling
Wetlands
Chemical Ache